Rubbish Removal

Aldborough Hatch IG2

If you need assistance with any Aldborough Hatch rubbish disposal task then our experienced team are more than happy to help. We've helped residents in need of IG2 waste collection. From shifting building materials left over from renovations to general food waste or heaps of cardboard, whatever the rubbish – we get it removed. Leaving the home or garden in a happy and hospitable state after a junk removal fills us with joy. Sometimes the scale of rubbish has actually meant it's a risk to health and safety, which makes our work much more than creating a harmonious place to live, as it also means turning a dangerous area into a safer environment.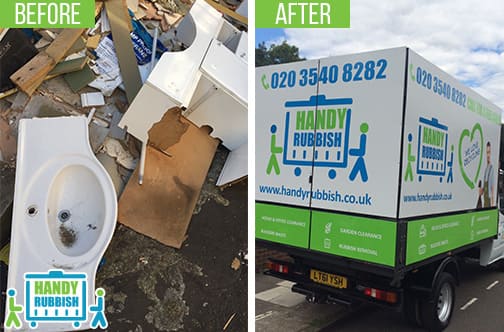 What we do
Where to find us
Like us
Book Cheap

Rubbish Clearance Service in IG2

Before any arrangement is made between Handy Rubbish and a customer we like to ensure we are both reading from the same page, by learning what kind of IG2 waste disposal service is required. We can offer a free quote if you are unsure or worried about how much our work will cost. Once we've got all the details we will send out our professional team to address your mess and get waste removal Aldborough Hatch underway! Our team of IG2 rubbish removal experts will not shy away from the dirt or severity of the task, they're experienced in what they do and have been called out to various situations. Learn more about the process by calling 020 3540 8282, we are happy to help!
The Best

Rubbish Disposal Solution in Aldborough Hatch, IG2

Not only do Handy Rubbish come in and remove rubbish but we also dispose of it in all the right ways. Recycling rubbish from any kind of rubbish clearance in IG2 is important to us because we like to try and keep our process as green as possible. All of the recycling companies we work with are legitimate and we take great pride in binning your rubbish in a proper, secure and legal way. If you'd like to discuss our recycling methods in more depth then call 020 3540 8282 as we can talk you through this part of the process in more detail. The recycling part of our clearance service requires absolutely nothing from you; we'll work with our contacts to ensure your waste is dealt with appropriately.
List of services we provide

in Aldborough Hatch, IG2
Household Rubbish Clearance Aldborough Hatch, IG2
Commercial Rubbish Disposal Aldborough Hatch, IG2
Building Waste Removal Aldborough Hatch, IG2
Garden Rubbish Removal Aldborough Hatch, IG2
Electronic Waste Collection Aldborough Hatch, IG2
Garage Clearance Aldborough Hatch, IG2
Perfect

Rubbish Removal Company in Aldborough Hatch IG2

We understand that not everyone in Aldborough Hatch can spend a fortune on a professional rubbish disposal, so we've tried to make our own IG2 waste clearance services in Aldborough Hatch as affordable as possible. Despite our generous prices we didn't want to compromise our quality performance, so we only employ well experienced or thoroughly trained staff to get the job done. We have a strong commitment to customer care and we always approach each waste disposal task with the utmost respect for our customer and their home. If you have any questions at all about the way we work or what we can offer then do not hesitate in calling 020 3540 8282 because we are here to help.

Testimonials
Their crew were professional to the core – exactly what I wanted from my rubbish clearance company in Aldborough Hatch IG2!
- Reviewed by Boris S.
What's In Aldborough Hatch?

Located in the London Borough of Redbridge, Aldborough Hatch is known for its rural environment. One of the most notable landmarks in the area is the Equestrian Centre, which was previously a grand mansion occupied by the Albourgh family. This location is considered as one of London's hidden gems and its natural surroundings have made it a well sought-after area for people looking to move. Recent disputes have seen locals try hard to retain the area's natural beauty, coming together to stop any more building work from spoiling its heritage, character and image. Christians predominantly populate Aldborough Hatch; however as time has gone by more Hindu and Muslim communities have become attracted to the idea of living in the area.


DO YOU NEED ADDITIONAL SERVICES?