House Clearance
Handy Rubbish are here to make sure that you get the very best in house clearance in London. Don't miss out on excellent services which are available to you whenever you need them. If you are looking to dispose of some of the rubbish in your home, no matter what it is, that we could be the perfect solution to all of your problems. So if you are worried you won't be able to deal with the clutter in your home, read on to find out what exactly we have to offer or call 020 3540 8282 for a free quote.
What we do
Got rubbish?
Let us get rid of it for you!
Whatever rubbish you have in your home and garden, we can remove it for good!
We offer free quotes
We can recycle or sell anything you want on your behalf, more or less 85% of your house clearance belongings
We offer large trucks to remove house rubbish in one single load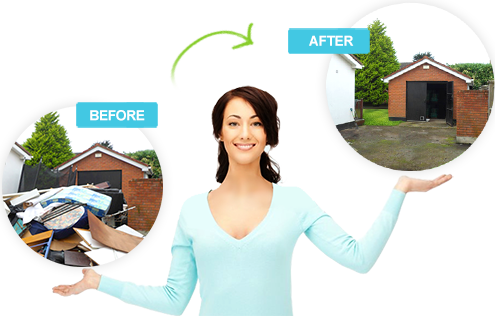 Book Cheap

House Clearance Service in London
In general, a great house clearance is all about space. If you are sick of thinking how to free up some space in your home, then the idea of property clearance might be very appealling. By hiring a domestic clearance, you are not only getting rid of items which you no longer need but you also take advantage of the potential space which is available to you.
Here to Help

with House Clearance in London

But why go professional? While taking the bins out might be easy enough, a large clearance is time-consuming and requires a lot of effort. By hiring the right team of experts, you can be sure that everything is removed properly. Indeed, the main concern is often how soon you can get everything done. When you need a house clearance London on short notice, it can be hugely helpful to have a company that could help you 24/7.
We Offer only Top-quality London House Clearance
As well as delivering a high quality service, we could provide you with proper house clearance solution. Many people find that it's very simple and easy to free up so much room in their homes, when they use professional London house clearance services. We make sure to offer everything to help you put an end to the mess, ranging from simple and easy office clearance to garden clearing services. So call Handy Rubbish on 020 3540 8282 to find out more.
Save
Testimonials
Great house clearance crew in London. They just could not nicer or more helpful.
It's great to see my house free and clear of some old junk I had sitting around. I look forward to working with Handy Rubbish again. You made the junk collection service look so easy.
Excellent and professional house clearance service from Handy Rubbish in London. Keep up the great work!
Handy Rubbish gave me an affordable price for the house clearance service that I ordered. It was cheaper than other rubbish removal companies.
Really friendly house clearance guys. They're a local business, hailing from London, and the quality of their work does the area proud!
I've had to utilize their house clearance services a couple of times, so I know what I'm speaking. They arrived at my home as scheduled, did what they came to do and didn't leave until the entire area was cleaned up, good rates as well.
Booked them on Tuesday, and they were on the property by 10 a.m. the following day. Terrific when it comes to house clearance, had the area cleared quickly.
Timothy Martin

26

Nov 2018
These house clearance guys were a tremendous help clearing the clutter from mum's basement in London area. Will use them again!
Antony Patrick

06

Sep 2018
It's surprising the buildup one can have in their home over the years without knowing it. Little by little I accrued a bit too much, so decided to make a rubbish pile, call a house clearance service, and be done with it. Fortunately, these guys are really good, affordable and did it all in one short afternoon!
Jessica Bromley

18

Oct 2017
I can't believe the difference ridding of some old boxes and furniture. I didn't do it myself; I contacted THEM to move it, lol. No way I would be able to get all of that out of my home, so I had them come out and do it. Good house clearance company will use again!
DO YOU NEED ADDITIONAL SERVICES?