Garden Waste Clearance
If you are worried about the conditions in your garden, then it might well be that the services of London garden waste clearance professionals such as Handy Rubbish are right for you. Lawn care is often not just about the process of cutting and caring, but making sure that the right materials are treated in the right manner. As well as the most obvious areas in which this can be affected, the manner in which you dispose of the garden waste can mean that you are doing your utmost to make sure that the best treatment is available to you. Call us now on 020 3540 8282 for a free quote. But what are the benefits which are offered to you if you choose to hire in some garden waste removal experts?
What we do
The Greatest garden waste removal
It doesn't matter what garden waste you have lurking in the garden – soil, leaves, mulching materials or wood chippings – we can take care of it all and your garden is in safe hands if you hire us. We are experts!
Garden furniture and equipment
General household waste
Bushes and branches
Weeds and dead plants
Wood waste
Hedge trimmings
Cut flowers, leaves
Garden pruning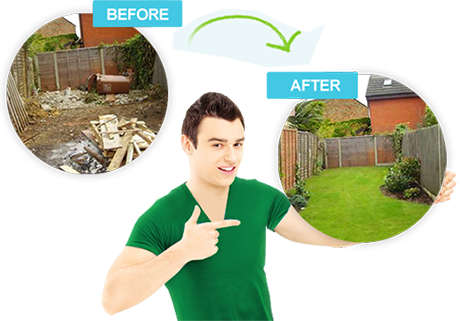 Book Cheap

Garden Waste Clearance Service in London
Firstly, one of the best things about professional garden waste clearance in London is that it is able to make sure that you are saving a huge amount of time. For the amateur gardener, lawn maintenance is often something which will occupy a lot longer than you might have expected. Because of the lack of expertise not only will you not be as efficient as possible when hedge trimming and pruning, but you will find that the main jobs themselves take up a lot longer than you think. That means things such as garden waste clearance can often end up taking up far more of your time than you might have expected. With so much to get done, some of the more laborious tasks can often be forgotten and this will mean that you will either waste more time addressing the problem in the future or you will fail to have enough time to get the job done to a satisfactory standard. If you find that this is the case in your garden, then professional help could be just what you need to free up your time.
Keeping Your Garden Looking Great -

Hire Our Garden Waste Clearance Experts?
One of the great things which many people discover about garden tidy ups is that it is a great way in which you can take a greener approach to taking care of your home. With many people becoming increasingly concerned by the effect which people are having on the environment, it can be important to ensure that you are doing as much as possible to ensure that garden waste clearance services are conducted in the very best fashion. This is typically a great way in which you can lower your carbon footprint and dramatically reduce the impact which you, your home and your garden are having on the surrounding world. While it is not typically a case of recycling these materials and waste items, it can be really useful to have an expert approach to composting and disposal on your side, meaning that you are able to remain confident at all times that your garden is green in every possible way.
Get Affordable Garden Waste Clearance Services

in London

Perhaps the most obvious way in which gardening care services can make a difference when you need to get rid of waste materials in your home is ensuring that the garden is aesthetically at its very best. Getting rid of these kinds of materials is important as they can often be left around the garden in an unsightly manner and can ruin the look which you are trying to achieve. Landscaping often works in a limited environment which means that if there is any waste which is not disposed of correctly then it can undermine the efforts which you put into keeping your garden looking great. If you want to make sure that your trimming and hedging waste disposal and leaf collection are all handled in the best possible manner, find out today just how much of a good thing it can be to hire in the garden waste clearance London experts by calling Handy Rubbish on 020 3540 8282.

Save

Save

Save

Save
DO YOU NEED ADDITIONAL SERVICES?