Rubbish Removal

Beech Lanes B17

Gone are the days when you had to put up with piles of junk in your driveway for days or even weeks on end, waiting for the local council collectors to come and take it all away. If you live anywhere in Beech Lanes, you now have a better alternative – Handy Rubbish! We provide residents of B17 as well as local business with superior quality Beech Lanes B17 rubbish removal solutions that answer all their requirements at a fair and competitive cost. Don't be a hostage of your own waste – book one of our Beech Lanes waste disposal B17 services today and let us lift the burden off your shoulders. Call us on 0121 794 8242 now and soon that stinky pile of rubbish will be only a distant memory.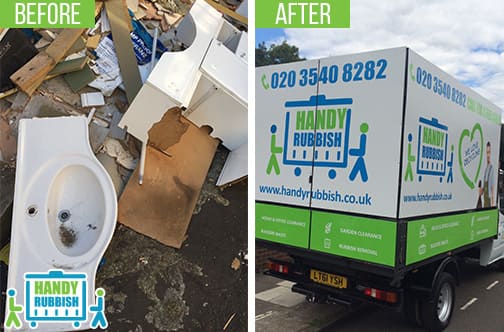 What we do
Where to find us
Like us
Book Cheap
Rubbish Clearance Service in B17
You are probably thinking: 'Alright, so you can clear away my household waste, but what about other kinds of junk I want to get rid of?' Don't worry, we cover a wide range of waste types and serve both commercial and domestic properties. We can collect general rubbish as well as clear out a whole property, if that is what you require. We cater for all types of garden waste too, including tree clippings, grass and other green waste, as well as debris, rubble and old patio stones and furniture. We can collect old white goods and electronics and send them to the recycling centres we work with to be properly recycled. We can clear away construction waste, including heavy and unwieldy items, bricks, cement, wallpaper, etc. We have a special service for the collection and proper disposal of old furniture pieces. For a full list of our Beech Lanes waste clearance services, give us a ring at 0121 794 8242 and talk to an expert from our team.
The Best Solution to Your
Waste Removal Needs in Beech Lanes
Satisfying our customers' requirements is important to us, but so is caring for our planet and its future. We perfect our rubbish disposal Beech Lanes all the time, aiming to make them safer for the environment. We work with a number of recycling depots to ensure that any part of the waste we take away from your property that is recyclable is sent for reprocessing and turned into something useful again. We even try to get the items, which can still be utilized in some practical way, reused or repurposed so as to prevent unnecessary dumping in landfills. By hiring our waste removal B17 services, you too will be doing your bit for reducing pollution and preserving nature for the future generations!
Hire Our
Beech Lanes Waste Clearance Service

Today and Get a Good Bargain!

Now, you don't have to pay a fortune in order to be able to afford a decent rubbish clearance Beech Lanes B17 – not with Handy Rubbish around to offer you a long list of top-notch services all at bargain prices! Unlike some of our competitors, we believe that high quality doesn't automatically have to mean a cut-throat price and, on the other hand, low prices don't automatically have to mean substandard service. We are the proof that Beech Lanes waste collection services can be offered at affordable rates without compromising on the efficiency and reliability of the service. But don't just take our word for it! Dial 0121 794 8242 today, book a trial rubbish collection service and see for yourself how thorough and cost-effective our work is!

Testimonials
Not often you see people genuinely passionate about waste disposal but this team is. It is local to Beech Lanes and offers great value! So great to be able to support local businesses in B17!
- Reviewed by John C.
Come See The Beech Trees In Beech Lanes!

One of the constituents of Birmingham, Beech Lanes is part of the Harborne ward and is a rather small and mainly residential area that derived its name from – you guessed it! – the age-old beech trees that grow here. The first mentions of the village of Beech Lanes were around 1700, and around 1800 there were already a blacksmith, two pubs, a Baptist chapel, a post office, a wheelwright and a few shops here, serving not only the locals, but attracting passing trade too, thanks to the close proximity of the village to the road between Harborne and Smethwick and the turnpike between Birmingham and Halesowen/ Stourbridge established in 1753. Today, the name Beech Lanes refers mostly to the junction of Wolverhampton Road with Hagley Road and the surrounding leafy suburban area bordering Sandwell.


DO YOU NEED ADDITIONAL SERVICES?