Computer Monitor Removal & Disposal
Affordable Computer Monitor Disposal
Whether it's an old CRT monitor or a modern up to date LCD/LED screen, we can remove any PC monitor you have on your hands from any room in your house or office. Typically, a monitor equals about 0.1 – 0.2 cubic yards. However, if it is a super slim LED or LCD screen, it can be far less.
Computer Monitor Recycling
Some monitors have to be handled separately as they, especially the old CRT screens, contain substances that may be harmful when broken down. All computer equipment will be delivered to a specialist safe recycling facility. Both households and businesses can take advantage of our computer monitor collection service.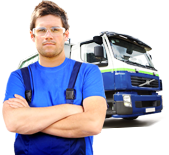 Where to find us
DO YOU NEED ADDITIONAL SERVICES?