Rubbish Removal

Feltham TW13

We will take away the rubbish that you have accumulated in your home or workplace within the TW14 area. Whether it is commercial, garden or household clutter our experts can handle the predicament. We have all of the proper licenses in place to remove almost any amount of rubbish. We have no minimum requirements, just a well planned rubbish clearance Feltham TW13. All of our workers wear protective gear to be able to sort, load and take away your waste in our specially designed trucks. If you need Feltham rubbish removal help, Handy Rubbish is the company to call. For more information about our special offers get in touch today on 020 3540 8282.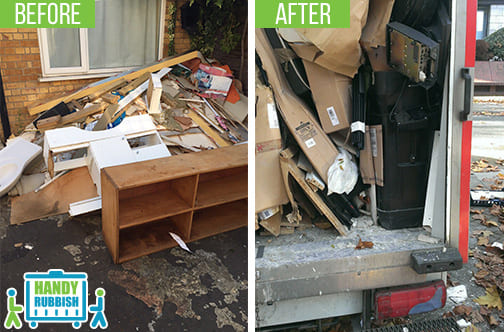 What we do
Where to find us
Like us
Book Cheap
Rubbish Clearance Service in TW13
Rubbish piles up everywhere in the home, garden, loft and workplace and it does need to be disposed of in the proper way. We are the experts and will do a safe Feltham waste collection TW13! We take it away and reprocess what we can in the protection of the planet. All of our rubbish disposal services are done safely and within the necessary guidelines. You don't need to worry about where to dispose of your rubbish, simply let us carry out the waste removal Feltham. You can book us to fit in with your diary. Our workers will do a competent job at unbeatable cost. We guarantee a first-class service at the lowest price in London. Let us help you and leave you free of waste and junk.
All Your
Feltham Waste Clearance

Needs Can be Met Here with Us

Hire Handy Rubbish and let us help remove your rubbish safely. We are the best Feltham TW13 rubbish disposal and have experienced staff who will deal with all of your unwanted things. Whatever you have to clear away throughout the TW13 area, we can help. You can rely on us to provide all of the proper permits and discard your rubbish and waste in accordance with the correct regulations. We can help across the area of TW14 and get rid of both commercial and domestic rubbish. Our costs are reasonable and will appeal to all. For more details, call us now on 020 3540 8282. Our helpful office can supply advice and help you book an appointment today. Call now and ask about our special offers on waste disposal TW13!
List of services we provide

in Feltham, TW13
Household Rubbish Clearance Feltham, TW13
Commercial Rubbish Disposal Feltham, TW13
Building Waste Removal Feltham, TW13
Garden Rubbish Removal Feltham, TW13
Electronic Waste Collection Feltham, TW13
Garage Clearance Feltham, TW13
Hire Our Inexpensive
Waste Removal Services in Feltham

Now

Lofts are notorious for collecting tons of rubbish. Most of it is probably years old and dusty and useless. We can aid in all of your loft clearance and remove all or just part of it. Free your space and let us take away your unwanted rubbish. Feltham waste clearance is an affordable way of making more room in your home. We will recycle almost all of your junk so you can rest assured that it is not simply filling up valuable landfill sites. We will supply all of the correct paperwork and transfer the rubbish to the correct waste disposal depot. Our Feltham TW13 rubbish disposal teams are dedicated and competent and will do a first-class job at reasonable cost.
Testimonials
Overall, a very positive experience with Handy Rubbish. Will recommend this rubbish removal company in Feltham.
I hired them for rubbish collection services in Feltham last spring. They were really amazing; the job was done to perfection. Top-notch services, thumbs up.
I had them do a waste collection for me in Feltham last month. They were really awesome; the job was done to the absolute best.
This Feltham TW13 rubbish removal service is great. Handy Rubbish has always taken care of rubbish for us and done great.
I hired Handy Rubbish last week for rubbish collection in Feltham. They turned up bang on time and I couldn't fault the service. My house is now a clutter free zone!
Final verdict on this waste removal company in Feltham TW13, is one of absolute praise. They did more than their share of heavy lifting, which saved us much in the way of time. In the end, we were left with more living space, so sat back, relaxed and ordered a nice, big pizza :D .
Got their cost-effective rubbish clearance service in TW13 five days ago. I've never experienced anything like this before. For the money I paid it was an amazing deal! Would recommend them to all in Feltham!
Feltham Area Info
Feltham is a residential town in the district of Hounslow in West London. Feltham is only 2 miles from the famous Heathrow airport. Feltham has a lot of open space compared to most areas of Greater London. It is surrounded by a small river the Crane, and borders Hounslow Heath, Harlington and Hampton. Country parks with rolling fields and walkways are located in the area. The area has good bus, road, and tube and train links. The area has lovely houses and plenty of shops, bars, cafes and restaurants. There are plenty of amenities and facilities and residential areas. Market gardening was the main economy of the area.


DO YOU NEED ADDITIONAL SERVICES?