Fridge Removal & Recycling
Fridge Removal
We can remove all types of fridges with our fridge removal and recycling service. Whether it is a big 'American' fridge or a small under counter fridge, we can remove it. A standard fridge freezer is around 1 cubic yards. An under counter fridge on the other hand is only around 0.5 cubic yards. There are no extra charges for domestic fridges removal.
Fridge Recycling
All fridges we collect are sent to our re-processing partners. Here they will be reconditioned and re-used as a result. This includes broken fridges. If the fridges are beyond repair / re-use they will be de-gassed. We can also clear out commercial fridges if you wish but these require hazardous waste consignment notes and will also incur additional fees. Get in touch for details.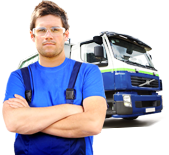 Where to find us
DO YOU NEED ADDITIONAL SERVICES?