Rubbish Removal

Kents Moat B26

Handy Rubbish is a well-established company with a long history in delivering prompt and reliable rubbish removal solutions in Kents Moat. We've built our reputation on great customer service and consistently high results. Our expertise and extensive knowledge of the B26 waste collection industry enable us to serve well both residents and businesses in the B26 area. We work hard to meet our client's expectation and to earn their trust. Our fleet of modern vans allows us to collect and dispose of different amounts of waste safely and efficiently. Whether you need us to collect your everyday rubbish or you want to us to take away the bulky construction materials from your property, you can rely on us. Simply tell us what you want us to take and we will provide you with a free quote. Get in touch with us on 0121 794 8242 now!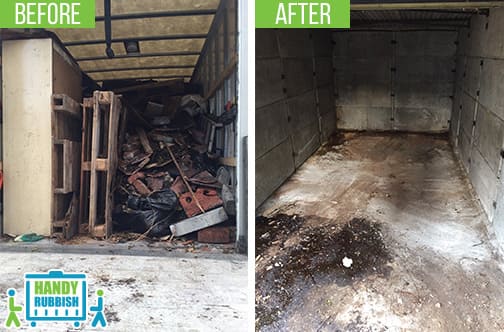 What we do
Where to find us
Like us
Book Cheap

Rubbish Clearance Service in B26

At Handy Rubbish we pride ourselves on our relationships with our clients and we approach each and every Kents Moat waste disposal job individually. Our expertise and professional attitude have earned us a great reputation in the B26 area. From the minute you call us to the moment we complete the job, you can depend on our help. We will design a solution to fit your budget and your requirements. Our well-trained waste clearance team can collect different types of rubbish, including e-waste, old furniture, garden waste, household rubbish and construction materials. We will haul your junk and will take it to the nearest recycling depot. Place your trust in our waste removal services in Kents Moat and we will free your property of the useless goods and materials.
Reliable Local

Rubbish Removal Services in Kents Moat, B26

As a company that cares for its customers, we want to ensure cleaner and safer environment for the community in Kents Moat. That is why we work towards minimising the landfill waste and the risks related to the pollution. We dispose of the junk we collect in licensed recycling facilities. Our vehicles are fuel-efficient to minimise our carbon footprint. Handy Rubbish recycle, reuse or donate up to 85% of the waste we collect. We ensure safe and responsible rubbish disposal in Kents Moat. Learn about our nature-friendly waste clearance services in B26 on 0121 794 8242 and schedule your appointment today. Our team will be more than happy to respond to all your queries and offer advice.
List of services we provide

in Kents Moat, B26
Household Rubbish Clearance Kents Moat, B26
Commercial Rubbish Disposal Kents Moat, B26
Building Waste Removal Kents Moat, B26
Garden Rubbish Removal Kents Moat, B26
Electronic Waste Collection Kents Moat, B26
Garage Clearance Kents Moat, B26
Hire Us for

Waste Removal in Kents Moat and Save Big!

Once you get in touch with us, we will provide you with a customised solution and a full price estimate based on the details of your job. Then one of our Kents Moat rubbish clearance teams will arrive at your place, collect all the rubbish and dispose of it in the nearest landfill. You won't have to lift a finger. We will take care of all the details for you. Simply, tell us what needs to be removed and we will take it away from your place quickly and without the undue hassle. Call us today on 0121 794 8242 and schedule your clearance! Get a free quote now and see how much money and time you can save!

Testimonials
I own local business in Kents Moat and need waste clearance more often than the council offers. Hired Handy Rubbish and their team now clear away all my waste in B26 because they do it much better than anyone else and it doesn't cost so much.
- Reviewed by Christopher G.
Why Visit Kents Moat?

Situated in Birmingham, Kents Moat is an area worth a visit. It is also known as Kempes Moat. The name of the location derives from the last occupants of a 1930s housing estate – John and Marion Kemp. The Sheldon Hall was first occupied in the 12th century and was rebuilt in the 14th century. The site also contains a recreation ground and a dry medieval moat that creates a rectangle, in the middle of which are located mid 20th century houses. The place is adjacent to the Sheldon Heath Road at Garrets Green. The moated area is one of the 13 Scheduled Ancient Monuments within the city.


DO YOU NEED ADDITIONAL SERVICES?