Rubbish Removal

Lyndon Green B26

We are a specialised Lyndon Green rubbish removal company with expertise in waste collection B26 and management. We are passionate about rubbish and run a business that is ethical, professional and sought after by homeowners in Lyndon Green. Residents of B26 can spot a good deal when they see one and we offer a competitively priced package that is hard to beat. Not only are our services cost-effective but time-effective too. We work quickly to remove unwanted rubbish from your neighbourhood, keeping your home and those of your near neighbours tidy when called upon to do so. Act now to secure your booking on 0121 794 8242 and say goodbye to waste build-up and unpleasant odours for good.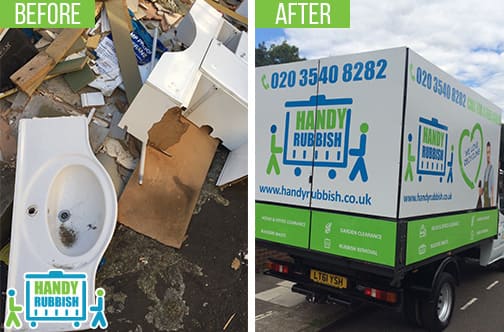 What we do
Where to find us
Like us
Book Cheap

Rubbish Clearance Service in B26

We are passionate and committed to caring about the natural environment. We don't make empty promises or false claims when it comes to our eco-friendly practices. Our B26 waste removal company aims to recycle a large percentage of our waste and give it a new lease of life that's kind to the planet. Customers are increasingly eco-conscious and we do our best to reassure them that hiring our services won't be harmful to the environment. We run an ethical business which includes recycling waste and putting it to good use. Rubbish disposal in Lyndon Green, B26 is a core part of our work and if you call us on 0121 794 8242 we'll show you how we can rid your premises of rubbish without harming the natural world.
Hire Professional

Rubbish Removal Company in Lyndon Green, B26

There are many advantages of using our professional waste disposal Lyndon Green firm and in just one short phone call to 0121 794 8242 you'll discover just what these are. If you are looking for a quality B26 waste clearance service at a fair price, just give Handy Rubbish a call. Our trained operatives well versed in the art of timely and prompt removal will clear all of the waste from your property. In need of same-day clearance service without extra charges, don't choose any other company but us. Hiring a professional clearance firm like ours also frees up valuable time, allowing you to get on with the less pungent jobs around your home! Let us take care of your smelly waste and refresh your home once more.
List of services we provide

in Lyndon Green, B26
Household Rubbish Clearance Lyndon Green, B26
Commercial Rubbish Disposal Lyndon Green, B26
Building Waste Removal Lyndon Green, B26
Garden Rubbish Removal Lyndon Green, B26
Electronic Waste Collection Lyndon Green, B26
Garage Clearance Lyndon Green, B26
Get Waste Clearance Service in B26

Today To Save Some Cash!

If you're convinced that we're the waste removal company for you, then we'd be delighted to arrange a booking with you. We serve homes and offices around the B26 area so we are near and convenient to lend a helping hand. Rubbish clearance in Lyndon Green isn't a glamorous job nor a pleasant one. It can be physically tiring and labour-intensive. So why have we made it our daily job? Answer: because we care about responsible waste management. Handy Rubbish promises to handle all rubbish ethically, professionally and with the environment firmly in mind. What may be a rubbish job to some is our livelihood and we're proud to have built our good reputation keeping the local area of Lyndon Green waste free. We offer our green services at the lowest prices locally so you will save money and time by hiring us! Get the best deal if you call right now!

Testimonials
Hired them for rubbish clearance in Lyndon Green last week. It took them 30 min to clear out my garage in B26. Hassle-free, fast and competitively priced!
- Reviewed by Ralph J.
Discover the Local History

History books show that this area of Lyndon was recorded as Lyne Green and Lyn Green during the nineteenth century. In Old English, the name Lin translates as 'lime tree' and was referred to as the Lime Tree Valley when it was given the name Lynedene in official records of the 1200s. Lyndon Green Windmill formed the topography of the area in times past. Lyndon Green was common pasture which belonged to Lyndon Manor. There is nothing left of this moated property now, finally being entirely demolished during the 1970s. Lyndon district is today geographically split between Birmingham and Solihull where it predominantly features private housing developments.
DO YOU NEED ADDITIONAL SERVICES?