Rubbish Removal

Nine Elms SW8

Whether you seek waste clearance Nine Elms, office clearance, garage clearance, or whatever else, Handy Rubbish offers it all and more! All you need to do is give us a chance and you will see that we are certainly one of the best companies around. There are so many down sides to having rubbish all around you. It brings negative vibes and quite simply, gets all under your feet. It is therefore bound to raise your stress levels. However, once that rubbish is disposed of, you will see your stress levels lower and also your mood brighten up.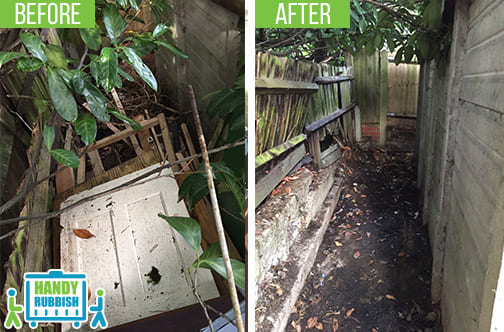 What we do
Where to find us
Like us
Book Cheap

Rubbish Clearance Service in SW8

With our superb rubbish clearance services in SW8, your rubbish concerns will be long gone. Our fantastic waste removal Nine Elms professionals will take care of the lot and provide you with all the support you need. You don't have to worry about a thing. So call us today on 020 3540 8282 and let us answer your questions, provide you with a free quote and all the information you need. We are more than happy to help you if you need our help.
SW8 Rubbish Disposal Company
Offer it All!
From waste disposal in Nine Elms to flat clearance, we offer all you need! You won't have to put up with rubbish again if you hire us. Just get in touch with Handy Rubbish now and we can help you in any way at all you need us to. We also offer a fantastic white goods recycling service if you need it. So if you have goods that seem a shame to just throw away, why don't you hire us now and we can put it to better use, the more eco friendly way, by recycling it. There is no point in struggling and putting up with rubbish all around you. Let our rubbish removal team SW8 get rid of it all for good. You will not have to see rubbish again once we clear it away for you for good.
List of services we provide

in Nine Elms, SW8
Household Rubbish Clearance Nine Elms, SW8
Commercial Rubbish Disposal Nine Elms, SW8
Building Waste Removal Nine Elms, SW8
Garden Rubbish Removal Nine Elms, SW8
Electronic Waste Collection Nine Elms, SW8
Garage Clearance Nine Elms, SW8
Perfect Nine Elms Waste Clearance Company
at Hand
All you need to do, if you are interested in hiring us for rubbish disposal services in Nine Elms, SW8, is call our office on 020 3540 8282 and we have a team of friendly advisers who can help you if you need help or have any questions you would like to ask. You are guaranteed a quick, easy, cost effective and friendly Nine Elms waste collection service by us. We promise you that. Get in touch now on 020 3540 8282 and we'll help you completely. We'll also provide you with a free quote if get in touch now. That's all you need to know. So call us now and find out more!
Testimonials
The rubbish clearance service from Handy Rubbish in Nine Elms is professional and a good price.
I called their team in SW8 and asked them about their deals on waste collection in Nine Elms. The process was easy to get hold of so I decided to take advantage of their offer. I received a first class service at affordable price! Thank you!
More About the Area
Located in the London Borough of Wandsworth, Nine Elms is a district of London. It is mainly an industrial area. There are many fantastic sights to see here, nevertheless. Some of the great residential areas to see include Carey Gardens, The Savona, The Patmore, and Chelsea Bridge Wharf. It is part of the SW8 postcode district. One of the fantastic things about living in Nine Elms is not only are there many excellent sights to see whilst you are here, but there are many great work opportunities here. As it is an industrial area, there are some great work openings here. So if you are in need of work, you may find work here in this place. You can find Battersea Dogs and Cats Home here as well as New Covent Garden Market. There are plenty of amenities here too including shops and bars. So you shouldn't be too bored here. You more or less have everything you need. So enjoy!
DO YOU NEED ADDITIONAL SERVICES?