Rubbish Removal

Perivale UB6

It can always be a challenge to keep your home clean and tidy, especially if you have other com-mitments such as a job and children and so on, no matter how clean you are, if you live in a clut-tered home, it is easy for dust and dirt to build up, even if you cannot see it. Obviously, this isn't good for your health and if your clutter isn't sentimental, one great way to get rid of this problem is to do a Perivale rubbish clearance. Our property clearance services will help you to clean out the clutter in your home and help with waste removal UB6, meaning that you can have a healthier and less stressed out house in no time.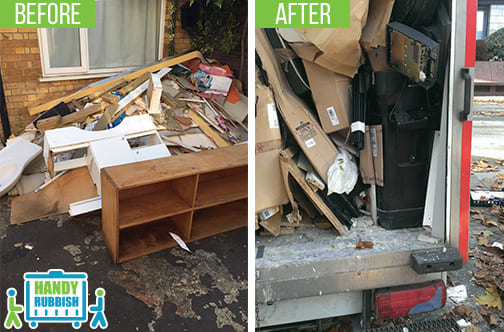 What we do
Where to find us
Like us
Book Cheap

Rubbish Clearance Service in UB6

We believe that having a clear and clutter free home is the way to have a clear and clutter free life. We also understand that doing this on your own can be a challenge as often you are attached to a lot of the things that really you could get rid of. This is why we offer waste clearance services in Perivale, UB6 - impartial people with no attachment to your items that can really tell you what is just junk and what is worth keeping. We also offer loft and basement rubbish removal services UB6, where we help you to clear out both of these in order to create either more rooms in your house, or space for organized storage.
Best-Priced

Rubbish Removal in Perivale

We work with you and are happy to help you in any way that we can. We may even be able to help you obtain a skip permit, meaning that you are able to get a skip hire alternative, if you have a lot to get rid of as this makes it easier than having to take trip after trip to the local landfill or having overflowing waste bins. We may also be able to assist with white goods recycling as old white goods can really take up a lot of space and make your home feel a lot smaller than it actually is. If you'd like our help, call Handy Rubbish on 020 3540 8282 and speak to our Perivale waste disposal team, we will be more than happy to help you out in any way we can.
List of services we provide

in Perivale, UB6
Household Rubbish Clearance Perivale, UB6
Commercial Rubbish Disposal Perivale, UB6
Building Waste Removal Perivale, UB6
Garden Rubbish Removal Perivale, UB6
Electronic Waste Collection Perivale, UB6
Garage Clearance Perivale, UB6
A Range of

Waste Clearance in UB6

We have lots of services that you may find useful in your home, so hiring us can be a bonus for any home clear out. Because of our reliable and experienced staff, and because of our competitive prices, our waste collection UB6 company is all you need for effective and efficient rubbish disposal in Perivale.
If you feel that our clearance company Perivale would be of value to you, we are just a phone call away. To arrange an appointment or to speak to us about our services call Handy Rubbish on 020 3540 8282 and see what we can do for you.

Testimonials
Clearing out the basement in UB6 was not my cup of tea so I hired them for waste collection in Perivale. They did an amazing job and charged me an affordable cost! Highly recommended!
- Reviewed by Julia
Where is Perivale?
Perivale is a suburb in the London Borough of Ealing and is in the postcode district UB6. The area itself is mainly residential and is near to areas such as Southall, White City and Brentford. Nearby postcode districts include UB2, W12 and TW8. Perivale itself has many attractions which draw people into the area. These include the Art Deco Hoover Building, Perivale Wood Local Nature Reserve and the 12th Century St Mary's Church. Not only does Perivale have these as claims to fame, but it also the setting for Classic Doctor Who and Only Fools and Horses episodes. As you may expect, Perivale has many notable people. Some of these include the West Ham and England football player Alan Devonshire, the 2008 BBC Apprentice winner Lee McQueen, Carole Middleton, the mother of The Duchess Of Cambridge and record producer Chris Thomas. These people were all born and/or lived in Perivale, making it seem to be a great place to be born if you want to get famous!
DO YOU NEED ADDITIONAL SERVICES?