Rubbish Removal

Shadwell E1

Sometimes all we need to do is tidy up the home; constantly trying to find places to put the accumulating goods, that seems to land on the floor on a daily basis. If you own a small home, it is even more difficult to try and find the space for these items and with a large home; it can quite often just lead to more mess. If the idea of carrying out your own Shadwell waste removal makes you feel less than excited, a professional E1 rubbish clearance company may be just what you need to deal with the mess. To find out more about the Shadwell waste collection professionals and the ways they can assist. It's never too late to get your home back on track!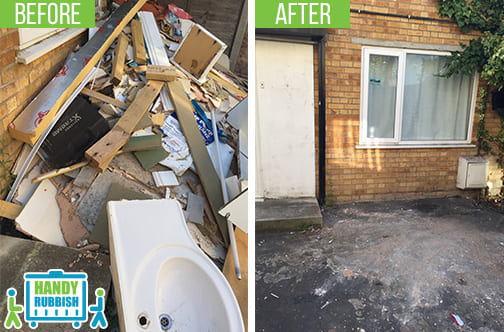 What we do
Where to find us
Like us
Book Cheap

Rubbish Clearance Service in E1

We all know how clutter and mess can make us feel and it's not a pleasant feeling to be knee deep in waste. Not only this, but excessive waste can also lead to accidents in the office or home. A Shadwell waste clearance E1 can be painstaking, especially if you're doing it on your own and it also raises questions about what to do with the unwanted waste. A proper clear out can take up hours, if not days of your precious time. Where its large items or small items you are trying to dispose of during your E1 rubbish removal in Shadwell, you still need to think about where everything goes and how to dispose of the waste safely. It's never too late to get your home back on track!
Shadwell Waste Clearance
at Your Service
Getting rid of all your unwanted waste can create a pleasant and positive environment in your own home or office, so it is worth investing in the process. Anything that makes you feel good is definitely worth the effort! Call Handy Rubbish on 020 3540 8282 and the trained waste disposal E1 professionals will be more than happy to assist with your chores. It's the start of the year, so there has never been a better time to get rid of the junk in your home and start afresh. Get your quote with no obligation and find out exactly how we can help. Don't waste any more time in a cluttered environment, speak to us today and find out how you can turn your premises from a mess to a mansion.
List of services we provide

in Shadwell, E1
Household Rubbish Clearance Shadwell, E1
Commercial Rubbish Disposal Shadwell, E1
Building Waste Removal Shadwell, E1
Garden Rubbish Removal Shadwell, E1
Electronic Waste Collection Shadwell, E1
Garage Clearance Shadwell, E1
Call on the Professional

Rubbish Disposal Company in E1

If you don't fancy taking care of your rubbish disposal Shadwell, E1 yourself, it might be a good idea to think about hiring the services of the professionals to take care of it all for you. Handy Rubbish offer a house clearance service, as well as waste clearance for flats, gardens and offices. With the professionals, you can be assured that your premises will be left pristine and will feel more comfortable than ever before. It doesn't matter how large the job is, we will take care of it for you in no time at all. All you have to do is ring us up on 020 3540 8282 and we will give you a quote for the work and get down to it in no time. Our rates are competitive, so you can expect to get good value for money.

Testimonials
Delivered low-cost rubbish clearance in Shadwell E1 at short notice. Really satisfied with the result! Would hire them again!


- Reviewed by Walter
What to Expect in Shadwell
Shadwell is located in the East of London under the E1 area code. It is situated next to Wapping in the E1W area of London and Ratcliff. It is close to the district of Charing Cross. There are various places of interest in Shadwell, including the St. Paul's Shadwell, which was rebuilt in 1669. The Brunel Museum is also close to Shadwell, 13 minutes from the station. There is also Spitalfields City Farm which is 15 minutes' walk from the station. Other places of interest for both residents and visitors, include the Whitechapel Gallery, 13 minutes' walk from Shadwell station and the famous Tower of London which is around 17 minutes' walk away. Shadwell has a lot to offer in the local area and a short distance outwith. There are some notable personalities, who have spawned from the area of Shadwell, including trade union leader Bob Crow, critic Walter Pater and musician and writer, Jah Wobble.
DO YOU NEED ADDITIONAL SERVICES?