Rubbish Removal

South Harrow HA2

Whether it is your home environment or workplace, you want to be in a place which makes you feel content and relaxed. The only way you can really achieve this sense of contentment is to have a clean and clear environment. It is quite easy for mess to add up, especially if you are bringing items home from work at the end of the day, such as newspapers and other wrappers. If space is an issue in your home, a mess can make cleaning difficult and can act as a hindrance if you have visitors staying over. If these problems sound familiar, it may be time to take the next step and call in the expertise of professional South Harrow waste collection services. To get some advice, simply call Handy Rubbish on 020 3540 8282 and discover the many ways we can make your premises look brand new again.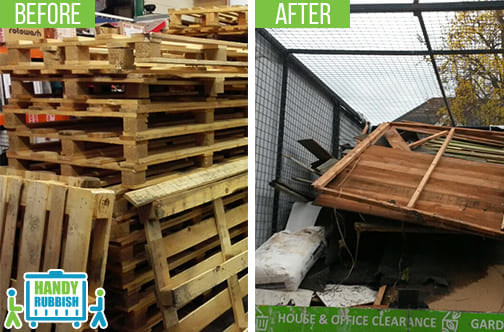 What we do
Where to find us
Like us
Book Cheap
Rubbish Clearance Service in HA2
If you want your premises to be clean and clear, you need to be prepared to undertake rubbish removal in South Harrow. It is not a task which should be rushed as if you do, you will end up throwing out items you would rather have kept. It's often not as simple as throwing all your unwanted goods into a bag and leaving them for the bin man. A thorough waste clearance HA2 will require separating the items into piles and selecting the items which can be thrown out during a routine waste disposal and those which need to be disposed of using a specific method. You may want to take some time to consider the schedule for your South Harrow HA2 waste removal before you get started.
Hire Our
South Harrow Waste Removal

Keeping Your Premises Clean

Instead of undertaking the process of South Harrow rubbish clearance HA2 yourself, why not call on the experts to take care of it for you. We are a top clearance company and have expertise in full commercial and residential clearance with all sizes of properties from small to large. All you have to do is to give our waste disposal HA2 experts a call on 020 3540 8282 and we will take care of it all for you.
List of services we provide

in South Harrow, HA2
Household Rubbish Clearance South Harrow, HA2
Commercial Rubbish Disposal South Harrow, HA2
Building Waste Removal South Harrow, HA2
Garden Rubbish Removal South Harrow, HA2
Electronic Waste Collection South Harrow, HA2
Garage Clearance South Harrow, HA2
Find the Best Help with Our
Waste Clearance Services in South Harrow
We will sort out all of your items and put the smaller items into bags, while the larger items will be transported to ensure they are disposed of in a safe manner. Handy Rubbish are a leading company and our customers keep coming back to take advantage of our rubbish disposal South Harrow HA2 services. We can deal with office, garden and home waste and we will even clear builder's waste if that's what you require. Call today for a free quote.

Testimonials
I am amazed by their friendly and efficient waste collection team in HA2! Got the best service in South Harrow!
- Reviewed by Ellen
What Life is Like in South Harrow
South Harrow is under the postal area code of HA2 and is situated in the London Borough of Harrow. It is south-east of Harrow-on-the-hill. Local areas to South Harrow include Roxeth and Harrow on the Hill, which are both under the HA1 postal code. There are various areas of interest in South Harrow, including two recreational grounds, which are the Alexandra Park and Roxeth Recreation Ground. The Roxeth Recreation Ground has a variety of sports entertainment facilities, including cricket and football pitches and a children's play area. In the past, there was also a bowling green but that has now closed. There are many churches in North Harrow, which cater for all types of religions including Catholics an Anglicans. There are also a variety of shops and public houses in the area. A number of famous faces have reigned from South Harrow, including Tom Fletcher, who is a member of the group, McFly and Todd Carty, an actor from Eastenders and The Bill.
DO YOU NEED ADDITIONAL SERVICES?