Rubbish Removal

Sydenham SE26

If you've got rubbish to dispose of, we've got the answer. Finding a cost-effective and simple way to dispose of household or building waste can be tricky; it's often bulky and hard to move, and even finding a suitable place to get rid of it can be a nightmare. But don't let this worry you, instead call us on 020 3540 8282 and one of our SE26 waste disposal expert can be on the case before you know it. Handy Rubbish is the only name you need for all your rubbish disposal Sydenham needs. We believe that finding a responsible and suitable way to dispose of your waste shouldn't cost you the Earth. In order to help people get rid of their rubbish safely and efficiently, we offer the best value rubbish disposal service in all of Sydenham.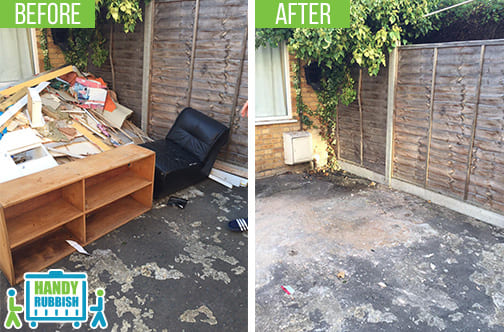 What we do
Where to find us
Like us
Book Cheap

Rubbish Clearance Service in SE26

Lofts and attics often get cluttered with junk; things get thrown up there when you don't know what to do with them. The trouble is, one day you may need to clear out all this clutter, and suddenly you realise just how much rubbish is up there. Fortunately our rubbish clearance service Sydenham also includes loft clearance solutions, meaning you don't necessarily have to rifle through all that junk. You can get us on the case instead. We offer comprehensive loft decluttering packages so you can hand over all that mess to us and we will happily take care of it for you. We offer a variety of packages depending on your needs, and in addition to offering the lowest prices our SE26 waste clearance team also ensure customer satisfaction with our money back guarantee.
The Cost-Effective

Waste Removal in Sydenham

You've finally got round to clearing up your garden in the SE26 district. Maybe you've just tidied it up or maybe you've gone the whole hog and totally redesigned it; either way we can almost guarantee there's a whole lot of rubbish tucked in a pile in the corner as a result. Finding the best way of getting rid of garden rubbish can be difficult. But rather than having to stress about hiring a van or bribing friends or family to help, simply give us a call on 020 3540 8282, book our Sydenham waste collection services in SE26 and we will clear it all for you without any stress or fuss.
List of services we provide

in Sydenham, SE26
Household Rubbish Clearance Sydenham, SE26
Commercial Rubbish Disposal Sydenham, SE26
Building Waste Removal Sydenham, SE26
Garden Rubbish Removal Sydenham, SE26
Electronic Waste Collection Sydenham, SE26
Garage Clearance Sydenham, SE26
Choose the Best

Rubbish Disposal Company in SE26

Knowing what to do with the waste that accumulates from building work can be difficult. A lot of people find it hard to locate a suitable place to dispose of it. However, we are experts in rubbish disposal, including waste removal Sydenham, SE26, and no matter how much rubbish you have, we can clear it for you. We have the necessary certification, so our SE26 rubbish removal professionals can remove building waste responsibly and safely. All you need to do is point us at it, and it can be gone in a flash. You'll barely even know we were there. So if that rubbish is getting you down, tackle it head on. Give Handy Rubbish a call on 020 3540 8282 today, and you can start to enjoy your clutter free life.

Testimonials
I really needed a good rubbish clearance service in SE26 so I called their team. They arrived promptly and completed everything in a jiffy. My property in Sydenham is now rubbish-free again! The special offer I received made the service even cheaper. I couldn't have asked for anything more!
- Reviewed by Simon P.
Sydenham – the local area and what to do
One of the first areas to have a railway line installed, it's no wonder that Sydenham remains a great hub for transport. The local train station provides commuters and tourists alike a quick trip into both central London and nearby areas of Kent. It is a particularly diverse district and is housed by multiple boroughs: Bromley, Lewisham and Southwark. In addition to the shopping and food options in the region, SE26 is also a great area for rural pursuits, as it has seven conservation areas including Cobbs Corner and Halifax Street. With a great mix of industry, commercial areas and green spaces, Sydenham really does have it all.


DO YOU NEED ADDITIONAL SERVICES?