Rubbish Removal

Aldgate EC3

If you have ever tackled any sort of rubbish disposal EC3, Aldgate then you know how tough such processes can be. Often this process can come from spring cleaning when you decide it is time to go through all your belongings and see which of them you still need. As you do so, you will come across objects that are no longer of practice to you. These can include anything from furniture to small items such as books and DVDs. You can find yourself with many goods that are unwanted, old or broken, so find our rubbish clearance Aldgate!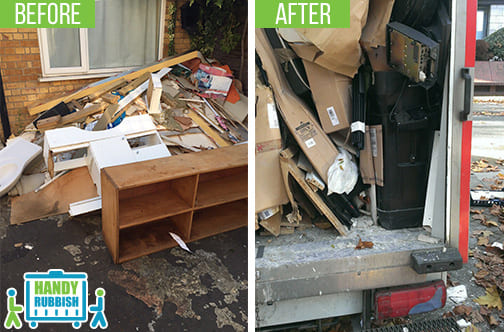 What we do
Where to find us
Like us
Book Cheap

Rubbish Removal Service in EC3

House clearance may take many forms. You may be clearing up your house, but you may instead be undergoing office clearance, garden clearance, garage clearance, builder's waste disposal, flat clearance, etc. While you are clearing, you will face many chores. Going through things can take a while because you have to be thorough, so that you can find as many goods as you can to free up space. If you want help with waste clearance in Aldgate, EC3 keep on reading and call Handy Rubbish on 020 3540 8282.
Helpful Waste Clearance in Aldgate
Are Here for You
You will have to place these items into bags and break them up into smaller pieces so that they will fit into the bags and be easier to handle. You will have to be ready for carrying these bags and items throughout the process, as well have suitable transportation. You will be required to look into all proper rubbish removal steps, so that goods are recycled and disposed of safely, correctly and legally by our EC3 rubbish removal experts!
List of services we provide

in Aldgate, EC3
Household Rubbish Clearance Aldgate, EC3
Commercial Rubbish Disposal Aldgate, EC3
Building Waste Removal Aldgate, EC3
Garden Rubbish Removal Aldgate, EC3
Electronic Waste Collection Aldgate, EC3
Garage Clearance Aldgate, EC3
You Can Get EC3 Rubbish Removal Services at
Exclusively Low Prices
This can all take too much work for some people and that is why we come to their rescue. Handy Rubbish has expert Aldgate waste removal professionals. They are extensively trained to help with all aspects of the job at hand. Call us today and we can guide you through everything you need to know about your waste collection in EC3 and the services we offer.
Gigantic Discounts

on Rubbish Disposal in EC3

We can send an expert team to your address that will assist with every part of the chore. Our staff will sort, carry and transport goods, so that you don't have to lift a finger. We will ensure all proper waste disposal EC3 guidelines are strictly followed, so items will be handled safely. We ensure that we can get rid of all junk in your life and do it properly, so call us today on 020 3540 8282 for more information and a free quote.
Testimonials
Top junk collection option in Aldgate I am so thankful for your service.
I will continue to do service with Handy Rubbish and continue to recommend you to others for waste collection in Aldgate. You were friendly and efficient. Kudos.
I had such a horrid mess to deal with after the storm, tree limbs and branches everywhere, way too much for me to handle by myself. Fortunately for me, this company was right there when I needed them. Came over and hauled off all of that wretched debris. No problems, just went straight to work on it. If you ever need a waste disposal service in Aldgate, I truly recommend them.
Great work in Aldgate! First class waste disposal in EC3 at low cost!
Living in Aldgate
The area is in the centre of London and east of Charring Cross. It is located within the City of London. It encompasses the E1 and EC3 postcode areas and so it is near the E1W, E2, E3, E14, EC2, EC4 districts and more. This means places close by include Bishopgate, Whitechapel, Shoreditch, Shadwell, Wapping, Bethnal Green, Bow, Mile End, Clerkenwell, Finsbury, Guildhall, Cannon Street and Blackfriars. The area acts as the eastern-most gate around the City of London. It is thought that similar gate has existed since the Roman Occupation and has been rebuilt multiple times over the years. Between 1374 and 1386, Geoffrey Chaucer occupied a house here. London's oldest synagogue has stood here since 1698. The Aldgate pump was erected in1700 and stood until 1876, before being replaced by a replica. Today, the area is close to the River Thames and is home to numerous insurance companies and firms, many operating in the Baltic Exchange, the Willis Building and the London Metal Exchange. There is an underground station nearby and mainline railway lines are also easy to access here.


DO YOU NEED ADDITIONAL SERVICES?