Rubbish Removal

Barbican EC2Y

There are a lot of jobs to do when it comes to keeping your home clear. From small maintenance jobs, like wiping and polishing surfaces, to elaborate clear outs. The little jobs can be done with no effort at all, but to clear your house, garage or garden of rubbish requires a little bit of planning. You need to set aside a full day to perform a proper, thorough clear out. Hire a skip, enlist the help of your family and neighbours, and get started. The problem is though; who in today's modern and hectic world has the time to do all of that? Thankfully, there is an easier solution to this problem, and it comes courtesy of Handy Rubbish. Make a call on 020 3540 8282 to discover more about amazing offers on Barbican EC2Y rubbish clearance services.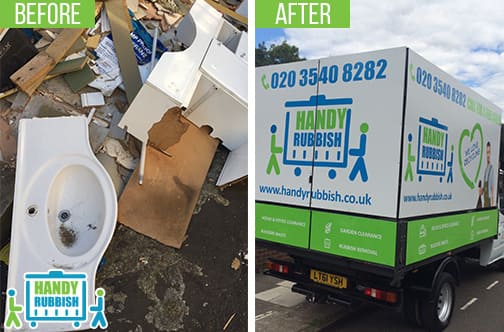 What we do
Where to find us
Like us
Book Cheap
Rubbish Clearance Service in EC2Y
Here, we provide Barbican waste removal EC2Y, and we have got the team for every possible clearance job. Our clearance professionals can deal with a cluttered home or flat just as easily as a junk filled garage or garden. Our Barbican rubbish removal services are environmentally friendly and easy on your wallet too - give us a call today on 020 3540 8282, you'll be pleasantly surprised by our affordable rates.
The Simple Way to Clear the Waste Out of Your Life is to Hire Our
Barbican EC2Y Waste Collection Company
Our rubbish disposal Barbican services are just what you need if you need to deal with domestic junk and clutter, and they couldn't be easier to hire! Just call us, and let us know what type of task we'll be dealing with, and we'll provide you with an affordable quote right there and then. We will then dispatch our team of waste disposal EC2Y professionals at a time that suits you, of course and that's all she wrote! It's just that simple.
List of services we provide

in Barbican, EC2Y
Household Rubbish Clearance Barbican, EC2Y
Commercial Rubbish Disposal Barbican, EC2Y
Building Waste Removal Barbican, EC2Y
Garden Rubbish Removal Barbican, EC2Y
Electronic Waste Collection Barbican, EC2Y
Garage Clearance Barbican, EC2Y
Entrust Our Well-reputed Company for
Waste Clearance in Barbican
Our waste collection Barbican EC2Y services aren't just cheap and simple, they are dependable as well. At Handy Rubbish we understand the individual requirements that our customers may have, and we tailor our services accordingly. So for a complete waste clearance package in Barbican, get in touch with our friendly offices today! We will have an appointment set up in no time at all!
Testimonials
An excellent waste collection company in EC2Y that listen to what it is you need.
Many of the Barbican EC2Y waste removal companies are expensive, but this service is quite affordable. I hired them to do a rubbish removal at my property and it went great. The garden is finally clutter-free.
I am renting a home in Barbican and needed rubbish removal service that would haul the old junk left behind by the previous tenants.
I received excellent and prompt service from Handy Rubbish here in Barbican at a very reasonable price. I would highly recommend them.
These guys did a fabulous job. I was very impressed. Handy Rubbish also has the lowest rubbish removal prices in Barbican.
Had an old wooden large playset that had to be removed from my residence in Barbican as soon as possible. I scheduled with Handy Rubbish for junk clearance, and the set was gone a day later. The cleanup was excellent too.
When it was time to find some rubbish removal help in Barbican we went with Handy Rubbish and are very happy that we did.
We wanted some quick help with rubbish disposal for our place in Barbican EC2Y so we called Handy Rubbish and they were very helpful, answered all of my questions, and gave us a professional result. Very happy with service!
Handy Rubbish offers a speedy, efficient and polite waste disposal company. Their office staff was patient and answered all my questions. Their crew arrived ahead of time to Barbican and hauled out all of my old furnishings. Highly recommend.
I really enjoyed working with this waste removal company in Barbican EC2Y! They were nice and ready to answer all of my questions. I could see that they were doing their best to meet all of my expectations and they even exceeded them! Perfect help from start to finish!
Barbican - a Striking Place to Call Home!
Barbican, located in the EC2Y postcode of The City of London, is a place with plenty to offer its residents, particularly ones who can appreciate a bit of art. Its home to the Barbican Arts Centre, which is a performing arts centre that holds art exhibitions, musical concerts and theatre performances. In addition to this, there are restaurants and a library within its walls. So there's a feast for all of your senses here! It's not just the centre that gives Barbican its artistic reputation - the whole place has a striking "Brutalist" Architecture. Both the Centre and Barbican Estate are examples of this. It's all very bold, and has to be seen to be believed. Barbican is well connected via a handful of train stations. It has a London Underground station of its own, and a smattering of National Rail stations. These include Liverpool Street, Moorgate and Farringdon. So Barbican has pretty much all of the rail coverage that it needs! Thanks to Barbican Estate, there's no shortage of accommodation in this area, so you can experience first hand the culture and Brutalist architecture that Barbican is known for!
DO YOU NEED ADDITIONAL SERVICES?