Rubbish Removal

Birchfield B19

With Handy Rubbish you can get rid of the junk without the undue stress and trouble. We offer simple, safe and affordable way to carry out Birchfield waste removal jobs of different scale and size. Our company works with some of the best professionals in the industry and has the resources to manage effectively your rubbish collection chores.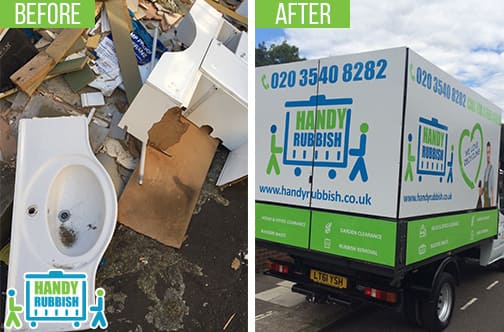 What we do
Where to find us
Like us
Book Cheap

Rubbish Clearance Service in Birchfield

We have modern vehicles and the latest equipment, allowing us to discard any amount of waste. Our vast experience and understanding of the B19 rubbish clearance business enabled us to drive down the costs of our services without compromising on our high standards. Give us a call now on 0121 794 8242 or reach us online to learn more about our outstanding Birchfield, B19 rubbish removal services.
Manage Your Waste without Hassle

with Our Rubbish Removal Services in Birchfield, B19

Once you hire us, you will be provided with a prompt and reliable rubbish disposal Birchfield, B19 from our experts. We specialise in a wide variety of services and can complete both simple and complicated projects quickly and effectively. Whether you need to clear the green waste from your garden or you have just de-cluttered your home, our skilled and competent crew will take away the rubbish from your property. They will ensure that the whole process goes smoothly and stress-free. In addition to our full-service property clearance options, we also provide expert waste disposal B19 solutions for commercial uses. Our company can help your small business or large corporations to safely dispose of the things you no longer need. Spare yourself the tedious trip to the local site of disposal and let us handle the job for you.
List of services we provide

in Birchfield, B19
Household Rubbish Clearance Birchfield, B19
Commercial Rubbish Disposal Birchfield, B19
Building Waste Removal Birchfield, B19
Garden Rubbish Removal Birchfield, B19
Electronic Waste Collection Birchfield, B19
Garage Clearance Birchfield, B19
Eco-friendly

B19 Waste Disposal Initiative

We, at Handy Rubbish, firmly believe that part of delivering outstanding services is taking care for the environment. As a responsible and trusted company we want to decrease the amount of landfill waste by undertaking certain actions. More than 85% of rubbish we collect is hand-sorted, recycled or reused. Working with accredited and licensed recycling facilities and closely with charitable organisations as well as providing safe and ethical rubbish clearance are our priorities, too. What is more we promote sustainable and eco-friendly practices in the community and actively seek new and effective ways to minimise negative impact of waste clearance Birchfield. We will go the extra mile to ensure that your waste is discarded properly and with care for the environment. For more information on our green methods, call 0121 794 8242 today!
Reliable Birchfield Waste Removal Services
at the Most Affordable Price
Find the best prices for rubbish removal services in Birchfield, B19 with us! Our company offers flexible options to suit every budget and needs. We can provide you with a tailor-made solution based on your specific situation and preferences. Our comprehensive solutions are suitable for both commercial and residential needs and can be easily accommodated to your requirements and budget. Just tell us what kind of rubbish you want to be removed and we will be on our way to your place. Our professionals will clear the waste in no time at all and will leave your property in impeccable state. Schedule your service today on 0121 794 8242 and get a free, no obligation quote on the best Birchfield waste collection B19!


Testimonials
I am happy with the help I received from this rubbish clearance company in Birchfield! They provided me with all the details I needed on the phone and even gave me advice on how to dispose of hazardous waste in B19 safely!
- Reviewed by Percy
What You Need to Know about Birchfield
Birchfield is located in the north side of Birmingham, in the West Midlands. It is part of the inner-city area of Perry Barr. The district give it name to one of UK's most notable athletics clubs- the Birchfield Harries based in the nearby Birmingham's Alexander Stadium. The club originally resided in the Perry Bar Stadium, which is currently used speedway and greyhound racing. A popular locality in the district is the Holy Trinity Church. Opposite to the church is situated The Jame Masjid Sunni mosque.


DO YOU NEED ADDITIONAL SERVICES?