Rubbish Removal

Ley Hill B31

Here at Handy Rubbish we understand your needs when it comes to Ley Hill rubbish removal. Customers want a simple service – a team for the job arrive at the appointed hour, the team pick up whatever there is to pick up, and they leave the customer with a smile. We get it and that is why our B31 waste collection services are the best in Ley Hill. We know how to approach a job and complete it to your liking, starting with a great offer and proceeding with a swift and efficient service to leave our mark. If you want a simple and efficient service, then call our office today on 0121 794 8242 and get your free quote to get you started.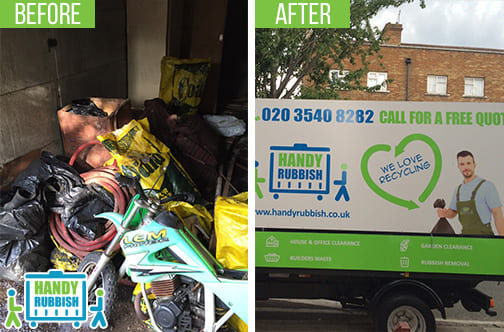 What we do
Where to find us
Like us
Book Cheap

Rubbish Clearance Service in B31

There are a lot of waste clearance companies in Ley Hill and we understand that we all offer the same thing. But the thing is, we do it better. Our waste removal B31 company understands your concerns and need and hence all our services are made to match your needs and budget. Call us anytime on 0121 794 8242 to speak to our friendly operators who are available 24/7. We have only the best waste collectors you have seen in action. Our ultimate goal is to give our customers 100% satisfaction, because our prices are meant to please every client. You will completely enjoy our eco-friendly rubbish disposal in Ley Hill. We make it a point not to disturb the natural order and we recycle as much of your waste as we can.
The Best and Most Affordable

Rubbish Removal Services in Ley Hill, B31

With our help you will complete your Ley Hill waste disposal B31 in an eco-friendly manner. We care for nature as much as we care for getting the job done and we make sure that we recycle most of the items we take during the rubbish removal service. We recycle no less than at least 90% of your rubbish with each collection job and that is how we keep the environment clean. With us you not only get speedy rubbish clearance services in Ley Hill, B31, but the result of the job is recycled materials which reduce the need of new materials to be taken from nature itself. And we make it a point to be green by taking the short routes and using only fuel-efficient vans.
List of services we provide

in Ley Hill, B31
Household Rubbish Clearance Ley Hill, B31
Commercial Rubbish Disposal Ley Hill, B31
Building Waste Removal Ley Hill, B31
Garden Rubbish Removal Ley Hill, B31
Electronic Waste Collection Ley Hill, B31
Garage Clearance Ley Hill, B31
Get the Best Waste Clearance Offer in Ley Hill

and Save Some Cash

Handy Rubbish allows you to get the best waste clearance services in Ley Hill, B31 and save money. With our deals you should not be surprised that this is possible. We make sure that our customers feel invited with lucrative prices that are just as low as our services are good. And just as the services get better over time, the prices get better with ongoing services. Come to us and become one of our happy customers. This is the rubbish disposal service your home needs and we offer it at an excellent rate. Simply get in touch today on 0121 794 8242 and our friendly team will tell you all about our discounts and special deals. Let us save you money now!

Testimonials
Thank you to everyone who helped in Ley Hill with my ridiculous waste clearance job. I thought it would take a lot longer to do, but the firm must have the quickest clearance team in B31. Cost-effective and dependable!
- Reviewed by Emily S.
An Introduction to Ley Hill

Holloway road has an excellent place for visitors to enjoy when coming to the B31 area. Just on top of the area, right next to Merritts Brook, you get Ley Hill, an excellent spot for walks. Around the hill you have an estate of houses that offer visitors a nice and humble view of British Life. Near the area you also get Ley Hill Park – a wonderful place for walks and a place for respite. The area of Ley Hill Park contains a total of 10 hectares, both parkland around the Kunzle house and farmland on the rest.


DO YOU NEED ADDITIONAL SERVICES?