Rubbish Removal

Chad Valley B15

We provide comprehensive Chad Valley B15 waste clearance services to individuals and businesses in the B15 district. At Handy Rubbish we are available to do all the hard work, so if you're in need of rubbish removal B15 service, give us a call on 0121 794 8242. You'll be able to bank on the experience of our rubbish collection experts to safely and carefully remove all your unwanted household items and dispose of them in an appropriate manner. Hire us and the headache of having to shift that mound of rubbish yourself will be gone. Put your trust in our experienced team of professionals and contact us today to get your free estimate.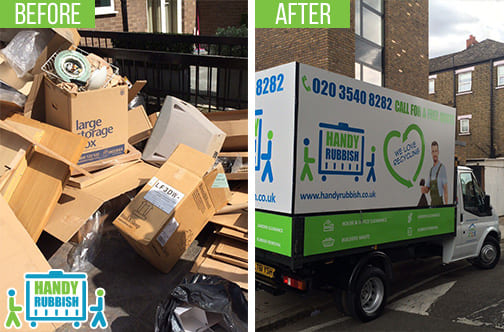 What we do
Where to find us
Like us
Book Cheap
Rubbish Clearance Service in B15
Regardless of what you need, our Chad Valley rubbish clearance professionals will have your requirements covered. At Handy Rubbish we offer a wide range of waste removal Chad Valley services – both residential and commercial rubbish clearance services throughout Chad Valley, B15. We'll collect household waste, commercial equipment; we can cater to building companies to clear away construction materials, and can remove green waste – whatever you need, we have the right service for you. We won't only dispose of your rubbish; we'll take care of everything, including any heavy lifting and loading that needs to be done. Call us on 0121 794 8242, book a service and you won't have to lift a finger.
Chad Valley
Waste Clearance Services

to Meet an Array of Different Requirements

You could be forgiven for thinking that our Chad Valley rubbish disposal B15 is actually recycling services – well when you get down to it, they pretty much are because a vast amount of the rubbish we collect goes to recycling plants. We are an eco-friendly Chad Valley waste disposal company and we make it our duty to minimise the amount of waste going into landfill sites. We're sure you'll also find this appealing – the fact that your items are going to be recycled or reused as opposed to just being dumped in the ground. This method of removing waste is not only great for the environment, but also helps us keep our costs down, which you'll discover when calling us on 0121 794 8242.
List of services we provide

in Chad Valley, B15
Household Rubbish Clearance Chad Valley, B15
Commercial Rubbish Disposal Chad Valley, B15
Building Waste Removal Chad Valley, B15
Garden Rubbish Removal Chad Valley, B15
Electronic Waste Collection Chad Valley, B15
Garage Clearance Chad Valley, B15
Affordability Combined With an Excellent Standard of
Waste Removal Service in Chad Valley
We do things differently to most other rubbish disposal companies in Chad Valley. That's what's made us so successful over the years and has made us stand out when others have fallen. For one, we are an environmentally friendly company – focussing on recycling has enabled us to keep our prices low, benefitting you and the environment. We also have a great management team who focus on maximising efficiency – another cost-cutting measure which means we can offer you the most competitive prices around. So to hire waste collection Chad Valley B15 service that won't break the bank, we're the only team that should be on your radar.

Testimonials
I am so grateful to their rubbish removal team who came to my B15 home to help with my rubbish. I know it's your job, but you acted like a friend just coming to help out, and your rates were so low I probably would have paid a friend more! Wish there were more companies like this in Chad Valley.
- Reviewed by Sarah Connerly
Explore the Quaint Area of Chad Valley

Chad Valley, which gains its name from Chad Brook, is a small area in Birmingham, situated between Edgbaston and Harborne. It's a very quiet area, far more serene then the nearby suburban area of Central Birmingham, and contains a fish pond and the Chad Vale Primary School. In the vicinity there's also Chad Brook and the Ravenhurst Playing Fields – some greenery in amongst the city. Chad Valley is mostly thought of as a trademarked name – the name of Chad Valley Toy Company – rather than a place name, but it is used to describe the area surrounding the now defunct factory.


DO YOU NEED ADDITIONAL SERVICES?