Rubbish Removal

Dagenham RM8

Is your home is full of stuff that you don't need or use but never get around to throw away? Have you ever had a tenant family move out of your flat looking for experts to clean up the mess they left behind? Is there an essential document that your client is not able to find at her residence? Are you moving your office and don't know how to get rid of the furniture and equipment you are leaving behind? Whatever scenario applies to you, the answer is to hire a Dagenham rubbish clearance expert team that will assist you in the process and make it go smoothly for you.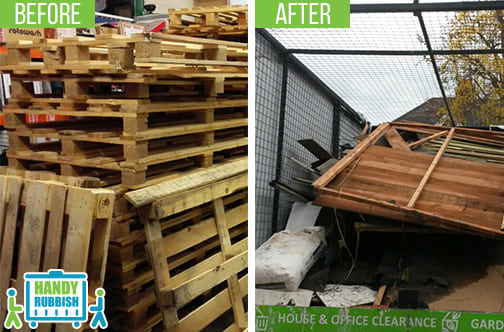 What we do
Where to find us
Like us
Book Cheap

Rubbish Clearance Service in RM8

At Handy Rubbish, no task is too big or difficult for us. Our expert RM8 waste clearance teams has years of experience in house and commercial clearance in East London area as well as in waste disposal. This is why all our procedures meet the Environmental Agency standards and we shall provide you notes after each load that has been disposed of to prove this to you. Whether it is waste disposal RM8 or garden waste clearance, we have the expertise and equipment to collect any kind of waste, from anywhere you want, at any time that suits you best. We have also done a number of Dagenham rubbish removal jobs for several clients in the area who have provided us with positive recommendations that we would love to share with you. Call us on 020 3540 8282.
Why You Should Hire Our

Rubbish Removal Company in RM8?

Handy Rubbish understands what you need from a Dagenham, RM8 waste removal company and strives to provide it. This is why we deliver efficient work in the shortest time possible, trying to avoid damage to the property in the clearance process, causing minimum disturbance to the work or home environment and maintaining a friendly and candid conversation at all points of the process.
List of services we provide

in Dagenham, RM8
Household Rubbish Clearance Dagenham, RM8
Commercial Rubbish Disposal Dagenham, RM8
Building Waste Removal Dagenham, RM8
Garden Rubbish Removal Dagenham, RM8
Electronic Waste Collection Dagenham, RM8
Garage Clearance Dagenham, RM8
Why You Need

Rubbish Clearance Service in Dagenham?

Above all, these RM8 rubbish disposal services and benefits are available to you at extremely competitive rates so you don't have to blow a hole in your pocket to live in a clean space. If you want to know more about our service packages and collection/disposal alternatives, give us a call at 020 3540 8282 and talk to one of our friendly and reliable Dagenham waste collection team members.
Testimonials
Junk removal services are not often found in Dagenham. I will be sure to spread the word!
The only waste clearance company that I use in RM8 is definitely Handy Rubbish.
As a landlord, I need to make sure that my property receives nothing but the best! I have always recommended Handy Rubbish to my tenants whenever they need rubbish removal services. They are the best in Dagenham.
Such a great service. I was very pleased. I will definitely use their rubbish removal service in RM8 again.
This Dagenham rubbish collection is exactly what we needed, thank you!
I had plenty of waste old mattresses, cabinet, bed frame and cardboard boxes in Dagenham RM8. It has always disturbed me how to get rid of them. I was happy when a friend introduced me to the junk collection company. I am highly satisfied.
Highly recommend this garden waste clearance service in RM8. They set a high standard for other professionals to follow.
I hired their team for rubbish clearance in Dagenham last week. They helped me sort my waste in RM8 and disposed of it in an eco-friendly way. I was amazed at their green and cheap service!
Living in Dagenham
Dagenham is one of the largest suburbs of East London, lying in the London Borough of Barking and Dagenham. Covering the postcode district of RM8, RM9 and RM10, it was transformed into the urban beauty that is today when the London County Council decided to convert the historically agrarian village to the large Becontree estate. Having formally attained the status of an urban municipality in 1938, since then it has been a predominantly residential area. Industry has not been able to gain a strong foothold in the region, as it was obvious after the decline of Fords Motor Company and Sterling Ltd branches in the area. The London Underground serves Dagenham East and Dagenham Heathway while National Expressoperates from Dagenham Dock and nearby Chadwell Heath. The area is also served by a number of London bus routes, including the night bus N15. One of the main attractions in the region is the Valence House which serves like a local museum documenting the lives of the people of Barking and Dagenham. The Roundhouse public house was a rock music venue to most East Londoners between 1969 and 1975 and popular for performances by stalwarts like Jethro Tull, Queen, Pink Floyd, Eric Clapton and Led Zeppelin. Dagenham is an emerging suburb considered to be quiet and social living.
DO YOU NEED ADDITIONAL SERVICES?