Rubbish Removal

Stamford Hill N15

Handy Rubbish is the only name you need to remember when it comes to rubbish removal in Stamford Hill, N15. We can deal with all sorts of N15 rubbish clearances including removing garden waste, building waste, old and unwanted furniture and of course getting rid of that general household rubbish too. We want to make getting rid of your rubbish as easy as possible, so once you call 020 3540 8282 to set up your appointment, you can leave the rest to us. Talk to an expert about your requirements today, and we can have a team out to you as soon as you need them.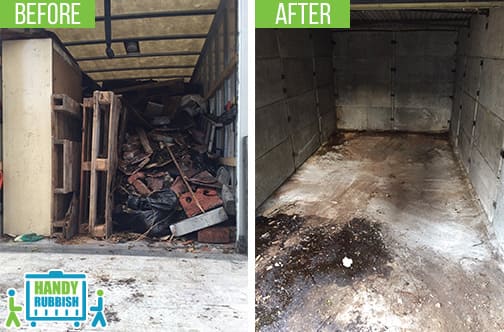 What we do
Where to find us
Like us
Book Cheap

Rubbish Clearance Service in Stamford Hill

The last thing you want when trying to enjoy your garden in N15 region is a pile of rubbish mocking you from the corner. Unfortunately this is what often happens; people do work on their garden and then are stumped about what to do with the rubbish. Soon it's just left to languish in the corner, and people hope it will magically disappear. Luckily, with our premium Stamford Hill waste removal service, it can. With just one quick call on 020 3540 8282 now, one of our experts can be on hand to whisk away that rubbish before you know it. It'll be gone so quick you'll think it was magic.
We've Got The Right Stamford Hill, N15 Rubbish Removal
Solutions For You
It's amazing how quickly rubbish can accumulate, sometimes without you even realising it. The trouble is once you do realise it, it can start to be a big source of stress. But that doesn't have to be the case. Rather than planning or debating what to do with your excess clutter, call us in and we can clear it for you in a flash. Whether you're moving house, having a spring clean, or just have a growing collection of junk to get rid of, we can help. We deal with all types of rubbish disposal N15, so you don't have to.
List of services we provide

in Stamford Hill, N15
Household Rubbish Clearance Stamford Hill, N15
Commercial Rubbish Disposal Stamford Hill, N15
Building Waste Removal Stamford Hill, N15
Garden Rubbish Removal Stamford Hill, N15
Electronic Waste Collection Stamford Hill, N15
Garage Clearance Stamford Hill, N15
For All Your Stamford Hill Rubbish Disposal Needs,
Contact Us
Old furniture can often be one of the most annoying things to get rid of. Sometimes it's kept way past its usefulness either because you think it 'might come in handy one day' or simply because you don't have the time or desire to do anything about it. If it's the former, we encourage you to just admit it's no longer needed, and if it's the latter, then don't put it off any longer. Call up one of our professionals and let them to sort furniture clearance out for you. We are experts in waste disposal Stamford Hill, and can safely and responsibly dispose of your old clutter for you.
You Won't Find Better Than Us

When It Comes To N15 Waste Collection

At Handy Rubbish, we understand that people want great value; most people don't want and can't afford to spend a lot on essential services. This is why we provide the best prices for Stamford Hill, N15 waste clearance services. To put us to the test, simply call us today on 020 3540 8282 and ask for your free, no obligation quote. We are sure you'll be amazed at our value, and once you try our services, you'll be assured of their quality. We cover all of N16 and the surrounding areas, and can be there as soon as you need to get that Stamford Hill waste collection N15 over and done with for good.


Testimonials
Great to find a decent waste collection operation with such great prices in Stamford Hill.
They took good care of the clutter. Affordable and respectable rubbish clearance company in Stamford Hill.
The rubbish clearance team I had the pleasure of meeting the other day were complete and utter professionals from the get go. I've used plenty of these companies in Stamford Hill in the past, and I have to say their team in N15 are by far the best, in terms of the quality of service, the fact that they offer affordable services, and just all-round value!
Things to Do in Stamford Hill

Stamford Hill is found in the North of London in the borough of Hackney. N15 and N16 house one of the densest populations of Jewish people in London, and thus much of the local culture revolves around this population in particular. For example, there are several synagogues, as well as local community centres and Jewish schools here. However, there is much more to the area, with attractions such as Finsbury Park nearby, as well as fantastic transport offering access to the centre of London in a matter of minutes, where a wide variety of entertainment and shopping options await.


DO YOU NEED ADDITIONAL SERVICES?