Rubbish Removal

Gravelly Hill B23

There are times in the life of each and every one of us when we find ourselves surrounded by old things that we no longer have any use for. And then there are times when waste seems to get the better of us and we can't quite deal with it. If you are in such a situation and are wondering how to cope with decluttering and waste management at your property, you need not worry too much. There is an easy solution to all your Gravelly Hill waste removal issues and that is Handy Rubbish! We offer a plethora of rubbish removal B23 services that are designed to meet your every need related to junk or clutter. Call 0121 794 8242 today or read on to learn more.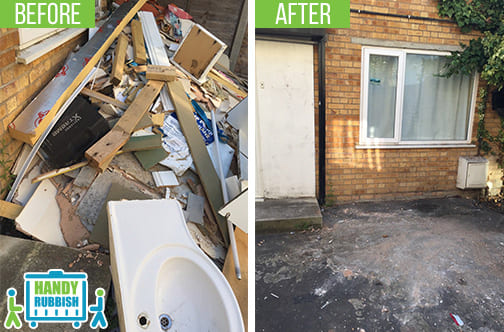 What we do
Where to find us
Like us
Book Cheap

Rubbish Removal Service in B23

Our waste clearance in Gravelly Hill B23 cover a wide range of waste types, and we serve commercial as well as domestic customers. Here are a few of the things we can take away for you: general household waste – we can arrange a rubbish collection for a date and time that best suits your schedule; office junk – our waste disposal team can collect anything from old office furniture and equipment to confidential files that you need to get destroyed. We are discreet and won't compromise the confidentiality of yours or your clients' data; construction debris – our waste collection in B23 covers heavy builders waste and rubble, as well as old fittings, wallpaper, bricks and just about any other type of junk found at a construction site; garden waste – we can haul away all types of green waste and other junk gathered in your garden; broken-down electronics – we will send all your old electronic devices and white goods to be recycled in line with all regulations. We can cater for many other requirements and rubbish categories too. Get in touch on 0121 794 8242 to see how we can help you.
We Are the Company to Call

for Gravelly Hill Rubbish Disposal

There are strict rules and regulations for safe Gravelly Hill rubbish disposal put in place and we follow the approved procedures for handling waste to the letter. We are deeply concerned for the well-being of the environment, so we constantly strive to come up with even better and more eco-friendly waste removal solutions. We have partnered up with a number of local recycling facilities to ensure that your waste is repurposed or recycled whenever possible. Furthermore, we work with several charitable organisations so that, if any of your items still has some useful life left, it can benefit someone in need.
List of services we provide

in Gravelly Hill, B23
Household Rubbish Clearance Gravelly Hill, B23
Commercial Rubbish Disposal Gravelly Hill, B23
Building Waste Removal Gravelly Hill, B23
Garden Rubbish Removal Gravelly Hill, B23
Electronic Waste Collection Gravelly Hill, B23
Garage Clearance Gravelly Hill, B23
Expert Rubbish Removal

in Gravelly Hill, B23 for Every Need

At Handy Rubbish, we not only offer the most trustworthy rubbish clearance in Gravelly Hill, B23, but we also offer all our solutions at rock-bottom prices. We appreciate the fact that not everyone can or is willing to spend exorbitant amounts of money on B23 waste disposal services and with us, you won't have to either! We will charge you only for the amount of waste we collect from your property and won't trap you into inflexible package deals that include services you won't require. Get your free quote today on 0121 794 8242 for the perfect service at the perfect price!

Testimonials
Didn't know there was so much to waste clearance but this team really know a lot about rubbish and recycling in Gravelly Hill, even gave me some advice on how to cut down waste in the future and use things again which I was really grateful for. So quick and helpful too, pleased I found their service in B23 instead of doing it myself.
- Reviewed by Ella
What Does Gravelly Hill Have to Offer?

Gravelly Hill can be found in Birmingham, about six and a half kilometres to the north-east of the city centre. It lies south-east of Perry Bar, south-west of Erdington, Sutton Coldfield and Stockland Green, east of Aston and north of Washwood Heath. There is predominantly pre-war and Victorian housing in the district, as well as some more recent developments. Gravelly Hill has good transport links, including Gravelly Hill railway station and a few bus routes, and the connections to the main campus of the Aston University make the place quite popular with students. One of the biggest industrial estates of Birmingham, Gravelly Industrial Park can be found here too.


DO YOU NEED ADDITIONAL SERVICES?