Rubbish Removal

Pype Hayes B24

We have competition in the nearby area but we don't let that bother us. The reason we firmly believe that when it comes to quality and service, we beat our competitors hands down. Rubbish removal Pype Hayes B24 is our daily bread and butter and we serve up a generous helping of skill, care and precision at every turn. Handy Rubbish has gained an enviable reputation in the local area, through hard work, perseverance and good old-fashioned exemplary customer service. We have set the benchmark for all other Pype Hayes waste clearance companies to follow. Reserve your appointment now on 0121 794 8242 and prepare to experience a hearty top-class waste disposal service for a low price.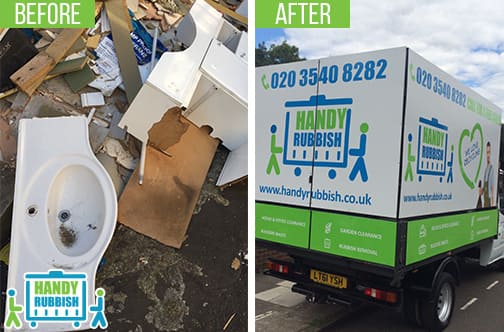 What we do
Where to find us
Like us
Book Cheap
Rubbish Clearance Service in B24
We run an eco-friendly business in Pype Hayes that puts our planet at the centre of all we do. We recycle all kinds of waste from plastics to metals, garden waste to glass. Whatever you have lurking at your property we're willing to bet we can give it a new lease of life. Responsible recycling is part of our daily Pype Hayes waste removal B24 operations and we train our employees to recognise and act upon their duties in this regard too. Skilled Pype Hayes B24 rubbish clearance includes the careful sifting and sorting of all waste collected to make sure it finds its way to the right recycling plant. Call 0121 794 8242 if you have any questions or concerns about the afterlife of your rubbish.
Waste Removal Team

Is Ready For Action in Pype Hayes, B24

When heaps of rubbish accumulates in your home, the air becomes stale and saturated with the stench of mouldy, dirty waste. Your floors may be hidden from view but underneath is a hotbed of germs and bacteria breeding in the areas you can't reach. By booking an appointment on 0121 794 8242 we can help to make your home cleaner and more hygienic. We make good use of our years of experience in domestic and commercial waste collection B24 with a positive approach to tackling any mountain of rubbish. Rubbish clearance is far more than a spring clean. It is a way to make your home safe, healthy and hospitable once again.
List of services we provide

in Pype Hayes, B24
Household Rubbish Clearance Pype Hayes, B24
Commercial Rubbish Disposal Pype Hayes, B24
Building Waste Removal Pype Hayes, B24
Garden Rubbish Removal Pype Hayes, B24
Electronic Waste Collection Pype Hayes, B24
Garage Clearance Pype Hayes, B24
Our
Pype Hayes Waste Clearance Services

are Designed to Serve You

The primary purpose of our local rubbish disposal Pype Hayes business is to serve our customers well. Whatever your reason for calling for help, we promise to always do our utmost to satisfy your needs. Handy Rubbish is synonymous with efficient rubbish collection and we have built our reputation as a reliable, honest and fairly priced company over our time of trading. We rely on positive customer feedback, recommendations and referrals so it's in our interest to keep our customers 100% happy, 100% of the time. We take great pride in a job well done, and once you've experienced our Pype Hayes B24 waste disposal services first-hand, we hope that you'd agree. We're here ready and waiting for your call.

Testimonials
I was looking for a fast and affordable way to dispose of my old furniture in B24. I hired Handy Rubbish for waste clearance in Pype Hayes and I am pleased with the result! They did deliver on service and price!
- Reviewed by Oliver
Step Back in Time

Pype Hayes is located east of Erdington, around two miles away from Pype. The name Pype has 3 potential origins. It was either named after the Manor of Pype of which it was once part, or after a pipa – water channel – that at that time ran through the estate. But most probably the name comes from a major landowner called Henry de Pipe. The Grade-II listed Pype Hayes Hall was built in 1603 and was later purchased by industrialist James Rollason. Birmingham City Council bought it soon after when the grounds were given over for the public's use and the house turned into a home for convalescing. The area proved to be good ground for sand and gravel mining. Evidence of this activity remains in Pype Hayes Park today.


DO YOU NEED ADDITIONAL SERVICES?