Rubbish Removal

Isleworth TW7

There are times when we need Isleworth waste clearance TW7, but are not always sure how to do it. Hire Handy Rubbish and get first-class waste removal service in the entire Isleworth. You may just have too much clutter and want the house and garden to be cleared out. We can deal with all types of rubbish, including loft clearance, furniture disposal and more. Our house clearance professionals are experts at dealing with your unwanted belongings.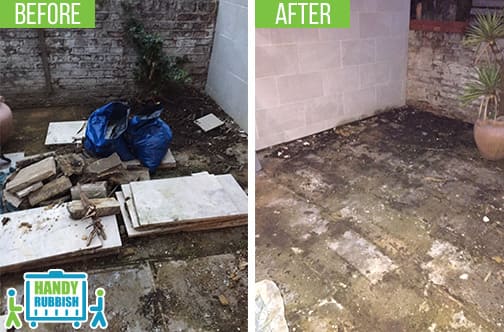 What we do
Where to find us
Like us
Book Cheap
Rubbish Clearance Service in TW7
Having rubbish removal in Isleworth TW7 is the best choice, when you just want your old waste and junk removing. We offer the best domestic clearance services in the area at a cost that is within your means. If you are on the move and want to get rid of old stuff such as furniture, appliances and junk, then we can deal with it. We cover all situations and if you have a rental property that needs a clear out, or a family bereavement, we can arrange for total Isleworth rubbish clearance. Contact Handy Rubbish and talk over what clearance service you require. Our helpful and friendly staff is on hand to help with all of your inquiries.
The Biggest
Waste Clearance Help

at the Lowest Cost in the Whole of Isleworth

Rubbish builds up over time, and before we know it, we have less room space. Don't put up with all of that clutter, if you still hoard furniture and appliances that are broken, why not call us and let us get rid of them. From small bits and pieces to large bulky possessions, we will offer the best waste disposal services in TW7. You can trust us to arrange the necessary clearance services and deal with your individual rubbish and waste needs. For more information about our excellent clearance services, call us now 020 3540 8282.
List of services we provide

in Isleworth, TW7
Household Rubbish Clearance Isleworth, TW7
Commercial Rubbish Disposal Isleworth, TW7
Building Waste Removal Isleworth, TW7
Garden Rubbish Removal Isleworth, TW7
Electronic Waste Collection Isleworth, TW7
Garage Clearance Isleworth, TW7
Isleworth Waste Removal Company

Can Help in All Situations

We can arrange all or just the removal, the decision is yours. You can rely on us to recycle your rubbish in the greenest way. Whatever you need to be dumped, we will have the knowhow of getting rid of it. We supply advice and information on how to dispose of certain things. For a stress-free waste collection Isleworth TW7, call us now for a free quote 020 3540 8282.
Testimonials
I really love Handy Rubbish for their flawless junk clearance services in Isleworth TW7.
If you need a decent rubbish removal company, Handy Rubbish has low rates, and their workers are skilled and dedicated. They always do a good job. Best in Isleworth.
When it comes right down to it, Handy Rubbish's rubbish removal in Isleworth can handle the big stuff. Refrigerators, stoves, you name it; I've had them haul it away.
The garden waste clearance team that came to our home was VERY hardworking! They were on time and pleasant to have in our new home in TW7.
It can be difficult finding reliable rubbish disposal in this Isleworth. These guys haven't let me down yet. Nice crew and they work hard for their money. Recommended.
We are happy with them for their efficiency. Since packing to Isleworth, they have remained efficient and highly reliable. We shall continue to engage them for junk removal.
Simply amazing! They have helped me two days in a row with rubbish clearance in Isleworth TW7 and I am very grateful for everything they did. Competitive prices for a top-notch service!
Isleworth - the Historic Place to Reside
Isleworth is a small town in the London region of Hounslow in West London. Its postcode area is TW7. It is located east of Hounslow and west of the River Thames. The historical town sits on the edge of the River Thames and has plenty of attractions and entertainment. It is close to Richmond, Twickenham and St Margarets, and in recent years has seen an increase in property buyers, because of its location. Mostly, due to the good transport links with the A4 and M4 close, and the excellent train connections to other areas of London. Heathrow airport is only 20 minutes away by car, and 6 trains an hour go to Waterloo in the work times. Isleworth was once a village and a popular place to dwell in the 18th and 19th centuries, mainly because of its serene riverside location. It has a wealth of stunning mansions that were built in this era. Kew gardens is opposite on the River Thames. A huge collection of Georgian and Victorian buildings can be found here and some of London's best riverside pubs. It is a tranquil town and set in a lovely area, but still close to the capital city.
DO YOU NEED ADDITIONAL SERVICES?