Rubbish Removal

Mitcham CR4

Recently had a tidy up and want to throw out some of your old possessions, furniture and other items? Haven't got round to it yet due to your busy work life and family commitments? Be that as it may, you can't just leave it and let it fester as it may attract mould and other microorganisms that you definitely don't want around your property. That's why it's essential to get your rubbish removed sooner rather than later. Not only does leaving your rubbish and waste for months on end present a hazard for all those in the vicinity. But it's also an eyesore and uses up a lot of space that I'm sure you could make use of. Our Mitcham CR4 rubbish removal professionals can deal with any kind of rubbish in fast and professional manner. Simply call us on 020 3540 8282 right now and we will take care of the rest.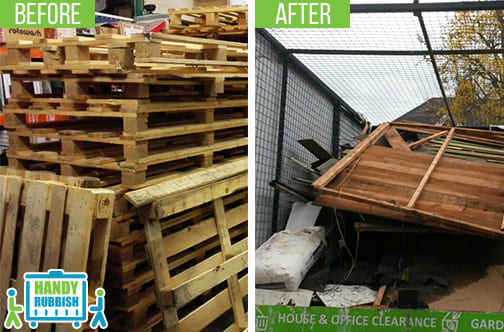 What we do
Where to find us
Like us
Book Cheap
Rubbish Clearance Service in CR4
We at Handy Rubbish can take care of all of your Mitcham waste clearance CR4 requirements and will work quickly and efficiently to ensure all your house clearance needs are met. So for the very best in Mitcham waste removal, give us a call today on 020 3540 8282.
Hire Our Reputable
Waste Collection Company

and You will Be Amazed at What We Can Do for You

If you have recently relocated your business into the local area, then get in touch with us as soon as possible, so that we can clear up your new office space, allowing you time to get accustomed to your new surroundings and place of business. Offices can be a busy place and can act as a meeting place for clients and a work area for your employees. With deadlines to meet and projects to complete, keeping your office tidy is often the last thing on your mind. So if your office has become cluttered up over recent time and has become strewn with papers, rusty filing cabinets and bits and pieces, it's vital that you get it sorted as quickly as possible, because you don't want to make the wrong impression for prospective clients. So make a call Handy Rubbish today for all of your rubbish clearance Mitcham needs.
List of services we provide

in Mitcham, CR4
Household Rubbish Clearance Mitcham, CR4
Commercial Rubbish Disposal Mitcham, CR4
Building Waste Removal Mitcham, CR4
Garden Rubbish Removal Mitcham, CR4
Electronic Waste Collection Mitcham, CR4
Garage Clearance Mitcham, CR4
Get in Touch with Us for Any Kind of
Waste Clearance in Mitcham
We can offer you a range of rubbish disposal Mitcham services that can be tailored to meet your home or business requirements, so there's no need to worry about waste collection Mitcham CR4 because at our company, we have all your requirements covered. We also offer a range of other waste disposal CR4 services such as garden waste removal, so give us a call today on 020 3540 8282.

Testimonials
Hired them for rubbish removal in Mitcham and they removed my waste in CR4 seamlessly. The price was reasonable and the service was wonderful!
- Reviewed by Gary
Enjoy Everything that Mitcham Has to Offer
Mitcham is a district situated in South West London. It is part of the London Borough of Merton and its postcode district is CR4. Nearby areas include Wimbledon, Streatham and Tooting, all of which have SW postcode districts. Mitcham is located on the border of inner and outer London and recent developments and urbanisation has meant that the area is now a modern hub of activity and part of a modern 21st Century London. Much of the area revolves around the town centre, common and the library. Surprisingly for a district in London, Mitcham has plenty of open spaces, parks and village greens. Mitcham Common Is spread out over 460 acres and can provide you with a beautiful walk along the many ponds and famous buildings located in the common. Buildings of note include the Canons and the Eagle House which was built in 1705 and formally owned by Sir Walter Raleigh. The area is well served by transport, mainly train stations such as the Mitcham Tram Station, Mitcham Junction Station and the recently developed Mitcham Eastfields Station, which runs Thameslink trains and Southern trains to and from areas such as Clapham Junction, St Albans and London Victoria.
DO YOU NEED ADDITIONAL SERVICES?