Rubbish Removal

Little Ilford E12

It's not uncommon to find that you have a lack of space in your home, or closets piled high with junk and bits and pieces that you no longer have any use for, so you need waste collection Little Ilford. We all like to buy the odd bit of furniture or accessory to add to the decor of our rooms, but this is often at the expense of an old bit of furniture that becomes shunned to a storage cabinet, never to see light again. We provide top-quality rubbish disposal in E12, Little Ilford.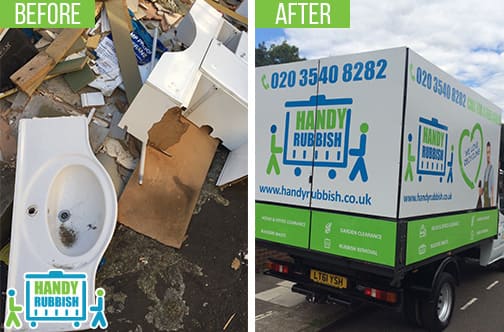 What we do
Where to find us
Like us
Book Cheap

Rubbish Removal Service in E12

Although you feel that you have spent money on these items, over the years these items will accumulate and make certain areas of your house look a tad messy. That's why it's essential that you use Handy Rubbish and our waste disposal E12 expertise. So if you're considering using our Little Ilford house clearance services and want to book, or simply require some more information about our E12 rubbish clearance services, give us a call on 020 3540 8282.
Let Our E12 Waste Removal Experts to
Take Care of Your Rubbish
Are you someone that keeps telling yourself that the old chair or curtains, stashed away in your cupboard, will come in use one day? Has this been going on for years and years but you just can't bear the thought of throwing them out and moving on? Well then it's time to make use of our furniture clearance services. We have been helping people get to grips with rubbish removal in E12 for many years and have every little thing put in place to be able to deliver a quick and efficient furniture disposal service.
List of services we provide

in Little Ilford, E12
Household Rubbish Clearance Little Ilford, E12
Commercial Rubbish Disposal Little Ilford, E12
Building Waste Removal Little Ilford, E12
Garden Rubbish Removal Little Ilford, E12
Electronic Waste Collection Little Ilford, E12
Garage Clearance Little Ilford, E12
Use Little Ilford Rubbish Clearance to
Clear Out Unwanted Items
Whether you have a large amount of rubbish and require our skip hire, or if you just need some man power to help with a messy room, we can facilitate all of these processes to help make your house tidy in next to no time. So if you're someone who needs some help removing unwanted items and brightening up your house, we are definitely the waste removal Little Ilford company for you. At Handy Rubbish, you will find every type of house clearance service you could possibly want in addition to our Little Ilford waste clearance for any of those messy outside areas. So give us a call today on 020 3540 8282 to find out more and to book one of our first-class services.

Testimonials
The best value rubbish disposal service in Little Ilford! Charged me a low price considering the large amount of waste I needed removing in E12.
- Reviewed by Malcolm
Make the Most of Your Time in Little Ilford
Little Ilford is a district situated in Greater London. It is part of the London Borough of Newham and its postcode district is E12. Nearby is Ilford, located in the London Borough of Redbridge which has the postcode IG1. Formally a civil parish of Essex, the area still boasts some fantastic architectural heritage from the 1800s, such as the St. Stephens Church, in addition to old buildings and houses which can be seen throughout the area.Although its ceremonial county is Greater London, the district couldn't be more different from the hustle and bustle of the majority of London towns.A quaint little area with a real community feeling to it, this area is really all about Church Road, where you will find everything you need, from basic house amenities to cafes and other food outlets. Don't be surprised to bump into a few friendly faces and stop for a chat because residents of the local area are really accommodating. If you work in Central London, transport is not a problem, with bus routes and the Manor Park Railway Station providing regular services.
DO YOU NEED ADDITIONAL SERVICES?