Rubbish Removal

Osterley TW7

We know it's a bit of a silly question, because who would want slow and unreliable rubbish collection? But the reality is that many people in Osterley are settling for a poor standard of service, just because they haven't shopped around. Instead of having waste dealt with instantly and at a time that suits them, they often either wait for their Osterley TW7 rubbish removal service, or hire a team that doesn't deliver on their promises. Either way it leads to ineffective service and unnecessary waiting around while your rubbish just sits there. If you'd rather avoid this scenario, why not get in touch with Handy Rubbish on 020 3540 8282 to speak to the experts and get your free quote today.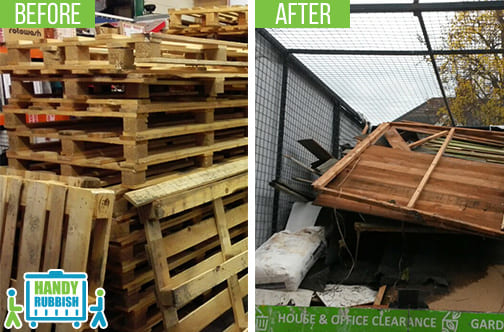 What we do
Where to find us
Like us
Book Cheap
Rubbish Clearance Service in TW7
Osterley waste removal TW7 has long been thought of as a process that damages the environment, and unfortunately that has been true in the past. But luckily, thanks to updates in technology and recycling process, this isn't the case anymore. In fact, being eco-friendly has never been so easy. Yet there remain a huge number of Osterley rubbish clearance companies that continue to throw waste into a landfill rather than managing it properly. But we know that people are worried about the environment, and want to do their bit to help. If that sounds like you, then get in touch with Handy Rubbish on 020 3540 8282 to find out how we recycle at least 85% of the waste we collect.
Hire Us for a Quick and Reliable
Osterley Waste Clearance
The word 'professional' gets bandied about a lot, yet so often these 'professionals' are far from it; offering dubious services at outrageous prices – ripping off the residents of Osterley without a care in the world. This approach the 'customer service' is exactly what we set out to avoid. We strive to deliver a service to TW9 that we can be proud of, and that our customers deserve. To achieve this, we have to hire the best of the best in waste collection Osterley TW7, and conveniently, that's exactly what we've done. Our waste clearance TW7 team are highly trained, experienced and fully vetted, and ready to help the local residents and businesses with their rubbish collection. Just call 020 3540 8282 to find out more and meet our team.
List of services we provide

in Osterley, TW7
Household Rubbish Clearance Osterley, TW7
Commercial Rubbish Disposal Osterley, TW7
Building Waste Removal Osterley, TW7
Garden Rubbish Removal Osterley, TW7
Electronic Waste Collection Osterley, TW7
Garage Clearance Osterley, TW7
Effective and Eco-friendly
Waste Removal Services across Osterley
High quality for affordable prices? It must be some kind of trick right? That's what people often assume when they hear about our incredible rates for rubbish disposal Osterley; they think that because our prices are so competitive, they won't get the high quality service they deserve. But we are here to set the record straight, because high quality is exactly what we offer. In fact it's the thing we have based our success on, and it's the reason we are able to offer such great prices in the first place – we have such a great customer base that's always growing, that our prices often go down instead of up. So treat yourself to waste disposal Osterley you can trust.

Testimonials
I needed waste disposal help in Osterley and didn't want to spend a fortune on it so I called Handy Rubbish. They saved the day! They cover the whole TW7 area and offer great deals and heavy discounts!
- Reviewed by Adam Groening
Out on the Town in Osterley
Best known for Osterley House, a mansion with impressive grounds which is cared for by the National Trust site and welcomes visitors all year round, Osterley also has plenty more to offer. Located in the London Borough of Hounslow, it's known as a well-off area, and is largely residential in make up. However there are lots for tourists to enjoy too such as Osterley Park, the largest green space in west London, offering unrivalled views and a space to get away from it all. Served by its own tube stop and an excellent bus service, Osterley can be got to in no time at all. Nearby areas are Hanwell, Norwood Green and Northfields.
DO YOU NEED ADDITIONAL SERVICES?