Rubbish Removal

Seven Sisters N15

It doesn't take long for rubbish to accumulate in the home. If you don't clean up every day, you will probably find your home cluttered and before you know it, it can become an unsightly mess. This is particularly the case, if you don't have much space in your house and are struggling for space to keep your goods. We tend to accumulate more and more rubbish every day and in many cases, the goods, we bring home, don't end up getting used and just gather dust in areas, we could use to make the home look more attractive. If you don't like the idea of doing a N15 waste clearance yourself, you may find that a Seven Sisters rubbish removal service will be the answer to your problems, with highly trained professionals who will get your home in shape in no time.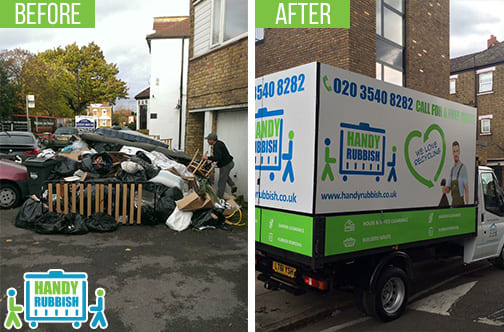 What we do
Where to find us
Like us
Book Cheap

Rubbish Clearance Service in N15

One of the most effective ways to start your day with a positive frame of mind and to ensure you are productive as possible is to carry out a thorough Seven Sisters rubbish clearance N15. The amount of furniture and electronics we collect over our lifetimes can be astounding and carrying out clearance can take hours, or even a full day in some cases. The process starts with collecting all the rubbish you wish to throw out, breaking it down in to smaller pieces and then getting them all into bags. This is not to also mention the task of trying to work out where to put them. You may be able to conduct Seven Sisters waste removal quite easily, but some pieces will have to be disposed of, using other methods.
Professional

Waste Disposal Services in N15

The whole process can be made much easier by enlisting the expertise of a professional house clearance company. The professionals from Handy Rubbish will visit your premises and take care of the job for you. Some of the Seven Sisters rubbish disposal services N15 include builder's waste, offices, flats, gardens and of course, residential areas. You can call us if you want to find out more about the waste disposal service in Seven Sisters, N15 we offer. The telephone number is 020 3540 8282. You can also read on for further information about the services on offer here.
List of services we provide

in Seven Sisters, N15
Household Rubbish Clearance Seven Sisters, N15
Commercial Rubbish Disposal Seven Sisters, N15
Building Waste Removal Seven Sisters, N15
Garden Rubbish Removal Seven Sisters, N15
Electronic Waste Collection Seven Sisters, N15
Garage Clearance Seven Sisters, N15
Simple

Waste Clearance at Seven Sisters

The junk disposal service will help you get rid of any unwanted waste and leave your premises looking fresher and cleaner than ever before, so you can save money, efforts and time. No N15 waste collection is too big or too small, we will take care of it all for you, as quickly and efficiently, as we can. You can call us on 020 3540 8282 and we will provide you with a free estimate on the cost of our service. We are always on hand to help, so let us know and we will carry out the work, as quickly as you would like and we promise you will be happy with the results.
Testimonials
The flat clearance job this company carried out in Seven Sisters went swimmingly.
Handy Rubbish provided a tremendous waste clearance service in Seven Sisters. I can't recommend their services highly enough.
These guys recently did a junk clearance at my N15 property. The crew was great, and their rates were reasonable.
I was very pleased with the way my lot looked when I returned home. I'll book your garden clearance waste service for N15 again.
Handy Rubbish has the best junk clearance services in Seven Sisters. Would highly recommend. They never disappoint.
Handy Rubbish offers outstanding junk collection in N15. I would highly recommend they never disappoint.
Handy Rubbish in N15 fullfill the end of the bargain. The waste removal service was cheap and done well.
I used their waste collection service in Seven Sisters last week. They did an excellent job at clearing the rubbish, and my house is finally a clutter - free zone. Would recommend.
The garden waste clearance in N15 helped me get the house ready for new tenants. Needless to say, they were very happy with their new home and garden. Great price and fantastic service!
Couldn't believe the price for waste collection in Seven Sisters N15 they offered me. Accepted the quote and didn't regret it! Affordable and highly efficient!
Life in Seven Sisters
Seven Sisters is a beautiful area in North London in the London Borough of Haringey, situated between Seaford BN25 and Eastbourne BN20-23. It is made up of stunning chalk cliffs which truly show the essence of this location. It is not surprising that the Seven Sisters N15 is regularly used in films and television programmes. In some cases, they have even been used as a substitute for the White Cliffs of Dover. The Seven Sisters is one of the wonders here, giving a breath taking white colour, which stands out throughout the surrounding greenery. There are many attractions, which make the Seven Sisters a favourite place, including the beaches - the Eastbourne Downland and the Birling Gap. You can also enjoy a walk at the Belle Tout Lighthouse and Cuckmere Valley. Unfortunately, the Seven Sisters may not last forever, as they are becoming increasingly eroded each year.
DO YOU NEED ADDITIONAL SERVICES?