Rubbish Removal

Petersham TW10

Wherever you live in Petersham, whether it's TW10 or further afield, if you need a top quality Petersham TW10 waste collection service, then you need us. And if you need an affordable rubbish collection service, then you still need us. Our extensive range of services means we can help with any kind of Petersham rubbish disposal TW10. We don't care if you're a local resident with some household waste to get rid of, or a local business that needs ongoing support with your waste management. Whatever you need, we have the expertise to help, so why not get in touch with our friendly booking team today and see how we can help you. All it takes is a quick ring to 020 3540 8282 and we could be there the next day.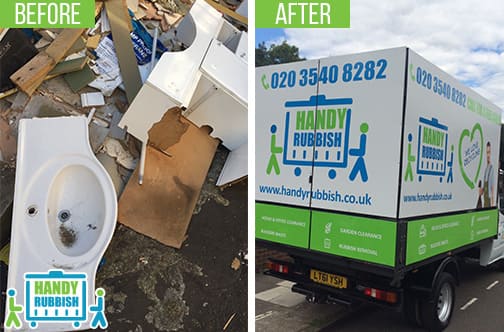 What we do
Where to find us
Like us
Book Cheap
Rubbish Clearance Service in TW10
Do you know anyone in Petersham who recycles at least 85% of their waste as standard? In fact you do. No, it's not Mrs. Jones who lives up the road; it's us at Handy Rubbish. We are pioneers when it comes to recycling rubbish; we set ourselves very high standards to make sure we do our bit to help the planet, and we want to help make sure do their bit too. Whenever we do rubbish clearance TW10, we always make sure to thoroughly assess and analyse the contents and recycle or reuse whatever we can. Through our rigorous approach to waste disposal Petersham TW10, we make sure Petersham is recycling as much as possible. Find out more about our pledge by calling 020 3540 8282.
Petersham Waste Disposal Team

That's Always There For You

Finding an effective Petersham rubbish removal team can feel like a genuine struggle sometimes. There are so many options to choose from, and yet so few of them are worth the high prices they charge, and that's because they usually hire the wrong people. Instead of hiring people who actually care about rubbish collection, they just hire anyone who'll do the job, and that's where Handy Rubbish differs to the average Petersham waste clearance service: we pride ourselves on creating a team of experts who really care. People that want to do the best job for our customers and are passionate about making the world a cleaner, safer place, and that's the secret to our success. Get a free quote by calling 020 3540 8282.
List of services we provide

in Petersham, TW10
Household Rubbish Clearance Petersham, TW10
Commercial Rubbish Disposal Petersham, TW10
Building Waste Removal Petersham, TW10
Garden Rubbish Removal Petersham, TW10
Electronic Waste Collection Petersham, TW10
Garage Clearance Petersham, TW10
Saving the Environment and Saving You Money with Our
Waste Clearance Service in Petersham
So far you know that some of the things we pride ourselves on are: recycling your waste, and creating a team the genuinely loves what they do and are always ready to help our customers. But that's not all we offer – we also offer the lowest prices for rubbish removal in all of Petersham. Our prices can't be beaten, and we know this for a fact, because not only do we regularly check our rates against competitors, but we also offer a price match. So even if you do manage to find it cheaper, we'll beat it. Add to this our money back guarantee, and high quality waste removal Petersham services, and there really is no reason to go elsewhere. Book now!

Testimonials
Wasn't sure if they'd be able to help me, but they went above and beyond to help with my waste collection in Petersham even though there was a lot (and I mean a lot!) of it. Team weren't phased at all, and just got on with it. One of the best experiences I've had working with an independent company in TW10.
- Reviewed by P.Fleming
What to Do in Petersham

An affluent area of London, located in the Borough of Richmond upon Thames, Petersham is directly on the River Thames, offering glorious views of the mighty river. Some of the top attractions in the area include Montrose House, Ham House, Douglas House and Rutland Lodge, both offering exceptional insight into British architecture. There's also an ancient watchman's hut built in 1787, further demonstrating how steeped in history the area is. Although it doesn't have its own railway station or tube stop, Petersham is well connected to nearby Richmond via a reliable bus network, allowing quick access to even more nearby attractions.


DO YOU NEED ADDITIONAL SERVICES?