Rubbish Removal

Pinner HA5

Clearing out your garden can be hard, especially if you don't have green fingers. If this is the case for you, gardening is likely to be the last thing you ever want to do, so you'll keep pushing it to the back of your mind - meanwhile your garden has turned into a forest. This is where our HA5 waste clearance services can really be helpful. They mean that you don't have to push gardening to the back of your mind, as you can simply clear it from your mind altogether and let our helpful team of clearance experts take over. If this is something that you think you need, call us, Handy Rubbish on 020 3540 8282 today.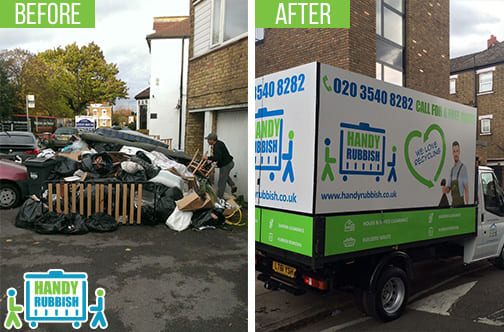 What we do
Where to find us
Like us
Book Cheap

Rubbish Clearance Service in HA5

Whether you've never been a gardener and need some help and pointers, or whether you just can't manage it anymore, we are here to help you out. We can help clear dead plants and help make your garden look a lot more like a garden again and significantly less like a forest. Our Pinner waste removal service can be really helpful if you've just moved into a property and your new garden is wild, as it allows you to have a clear base to start to put your gardening flair on, or can be great if you've just had an extension built for example and the builders left lots of rubbish, as we also help with HA5 rubbish clearance Pinner.
Efficient

Waste Removal in Pinner

Often when it comes to clearing gardens there can be a lot of rubbish removal Pinner, more than will fit in your garden waste bin. In these circumstances, it can be a great idea to look into skip hire alternatives as this allows you and us to have somewhere safe to put the rubbish and will truly help to get it out of your way. When it comes to skips, you often need to have one, so if you think you would like a skip for your clear out, this is something that you definitely need to check before you hire one and something that we can easily help you out with sorting. Hiring our waste disposal in Pinner, HA5 has so many positives for both your garden and your stress levels.
List of services we provide

in Pinner, HA5
Household Rubbish Clearance Pinner, HA5
Commercial Rubbish Disposal Pinner, HA5
Building Waste Removal Pinner, HA5
Garden Rubbish Removal Pinner, HA5
Electronic Waste Collection Pinner, HA5
Garage Clearance Pinner, HA5
Rely on Our Recommended

Rubbish Disposal Company in HA5

If you feel as though our services will be useful in your garden, then get in touch with us right away. We also do work inside the home and can assist with things such as Pinner rubbish disposal HA5, and white goods recycling, if you feel that these would be useful to you as well. Simply call Handy Rubbish on 020 3540 8282 and let our friendly and kind staff help you decide in what way our HA5 waste collection specialists can help you.
Testimonials
Great Pinner HA5 waste collection services. Would definitely use again.
The only way I can describe the rubbish removal service provided by this company in Pinner HA5, is fantastic. They made the right impression as soon as they turned up, and it lasted.
As a local waste removal team in HA5, Handy Rubbish did brilliantly accommodating my needs, coming around to carry out the service when I needed them and providing me with a low and very reasonable quote.
Their loft waste clearance was a deal for us here in HA5! First, their crews were super nice. Second, their prices were super affordable, and third, they left the place spotless!
I will definitely consider hiring this waste disposal firm once again. They really offered me discounted rates and had an amazing job done in Pinner HA5.
The job done by Handy Rubbish was very fast and done well. They have reasonable rates and can show up with short notice. I would recommend them, terrific Pinner HA5 area company.
Definitely will use this rubbish collection crew again, as I have a lot of DIY projects that involve woodworking, and just to have them come out to HA5, and clear out the garage for me from time to time is a godsend!
I use builders waste removal services frequently. I own many properties in the Pinner HA5 area. Handy Rubbish is the best of the best. I will be using them from now on.
Spent a fair while looking for a company to perform a simple domestic waste removal. These were recommended by plenty of people in Pinner HA5 and it so turned out that they well deserved their plaudits. Very happy indeed to recommend them to one and all.
Rebuilding part of my home in Pinner HA5 was made a bit more stress-free with the builders waste removal service.
Highly recommend this HA5 waste clearance company! They have cheap prices for top class services in Pinner!
About Pinner
Originally a very small hamlet, Pinner today is an area found in the London Borough of Harrow, in the North West of the city. It is considered to be one of the more wealthy areas of London and is in the postcode district HA5. Places nearby to Pinner include South Oxhey, Eastcote and Wealdstone. Postcode districts surrounding Pinner include WD19, HA4 and HA3. The areas name is shared by the River Pinn which runs through Pinner, and with the first recording of Pinner being in 1231, it is an extremely old village. The expansion of the area was mainly down to the expansion of the railway system, making it easier for people to get to and from. There are a number of noticeable people associated with Pinner, including the Poet Laureate Henry James Pye, comedian Ronnie Barker and actor David Suchet, along with many more famous names. Along with famous people, Pinner is also famous as a setting for television and films, including shows such as The Inbetweeners, Chucklevision and My Hero all being filmed here at some point.
DO YOU NEED ADDITIONAL SERVICES?