Rubbish Removal

Plumstead SE18

Basements are that room that you always think will be really useful when you're looking for a house, you'll be thinking 'oh yes, we can use the basement for this or that', but when reality kicks in, the basement really just becomes the dumping ground. You end up just putting all the boxes of things that you don't know where to put in there, shutting the door and walking away, pretending that there is nothing down there. But, eventually the basement needs sorting, and that can seem like a very scary task. When you need any kind of Plumstead rubbish removal services or help, we are the waste clearance SE18 team you need to call.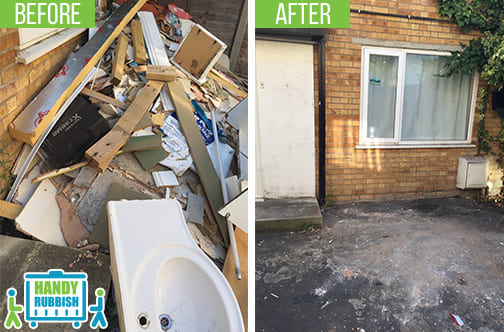 What we do
Where to find us
Like us
Book Cheap

Rubbish Clearance Service in SE18

There is no denying that this can be one hell of a daunting task, especially if you have no clue what is actually in your basement. Starting with moving boxes and marking what is in them is a good idea, even if you can't bring yourself to throw anything out yet. Then, once the boxes are sorted and you know what is where, our SE18 waste removal service can help you by picking out the things that you no longer need or want. Sometimes you need to be ruthless with Plumstead rubbish clearance, and so hiring us in as an unbiased third party can be extremely helpful.
Hire us

for Rubbish Disposal in Plumstead

If you have old furniture in your basement, it is obviously not something that you want to use, so rubbish disposal in Plumstead can be a great way to free up some space. If you have old white goods, clearance of these through white goods recycling is another brilliant way to get that basement looking clearer and more useable again. These two services are something that we can make a lot easier for you, as we can help with the disposal. If you have a particularly big basement, or a very full one, it can be a very good idea to look into skip hire as an effective method of SE18 waste disposal Plumstead. If this is a route that you think you would like to or will need to go down for your basement, it is important that you check the rules of having a skip in your area and find out if you will need a skip permit in order to do this - yet another task that we can help you out with, a benefit of having us help in your home.
List of services we provide

in Plumstead, SE18
Household Rubbish Clearance Plumstead, SE18
Commercial Rubbish Disposal Plumstead, SE18
Building Waste Removal Plumstead, SE18
Garden Rubbish Removal Plumstead, SE18
Electronic Waste Collection Plumstead, SE18
Garage Clearance Plumstead, SE18
Trusted

Waste Clearance Company in SE18

Sometimes, good things don't come easy, and clearing out your basement can be one of those times. But, when you've done it you'll reap the rewards. You'll either gain another room that you can use in your house, or you'll find things that you loved and forgot you had. We are happy to help you with your SE18 waste collection Plumstead, so call Handy Rubbish on 020 3540 8282 today. If you need help with junk disposal and basement clearance that needs sorting out, and you don't want to do it alone, let Handy Rubbish help you out with your cluttered basement.

Testimonials
Hired the team that serves Plumstead and got a hassle-free waste removal service in SE18. Cost-efficient and fast! Thank you!
- Reviewed by L. Mortimer
About Plumstead
Located in the Royal Borough of Greenwich, Plumstead is an extremely multicultural and diverse area. The postcode district is SE18 and nearby areas include Woolwich, Abbey Wood, Thamesmead and Erith. Postcode districts surrounding Plumstead include SE2, SE28, DA8 and SE7. Plumstead has a long history, but in recently the area has undergone redevelopment in the form of an increase in housing. Unlike many places like it, Plumstead managed to do this while still keeping lots of its green spaces, meaning that areas such as Shrewsbury Park were untouched. Football fans, in particular Arsenal fans, may enjoy Plumstead as the team played at various grounds here. As with most areas in London, Plumstead has produced some famous people, including Bill Whitehouse, the Formula 1 racing driver, Charlie Buchan, a footballer and writer and Scott Maslen, a television actor. The facilities in Plumstead are brilliant for the local community, with Plumstead having multiple schools to choose from for children of all ages, and great transport links with the rest of London.
DO YOU NEED ADDITIONAL SERVICES?