Rubbish Removal

Short Heath B23

We are very proud of our eco-conscious Short Heath, B23 waste disposal services, and we have taken steps to improve them at every turn. These improvements come in many forms, and eco-friendliness is one of the lesser known ones. Our service as a whole is taking steps in a more environmentally friendly direction – our vehicles and equipment are cleaner and more efficient, and we now recycle as often as we can. We understand that a large part of effective waste collection Short Heath is sustainability, and our rubbish disposal techniques reflect that in a big way.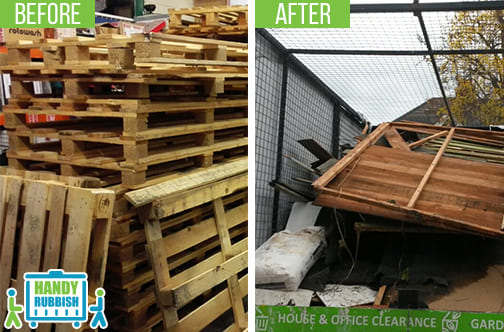 What we do
Where to find us
Like us
Book Cheap

Rubbish Clearance Service in Short Heath

Here at Handy Rubbish, we offer a range of Short Heath waste clearance services specifically built to make rubbish removal jobs easier. Small business owners and families in Short Heath alike can all take advantage of what we offer. We offer trash collection service as well as convenient waste removal ones throughout B23 region – all for a price that's easy to afford! So if you want to remove a large amount of rubbish from your property, or need someone to handle the weekly rubbish pickup contact us on 0121 794 8242!
Hire Our Short Heath B23 Rubbish Removal Company Today, And We'll Have a
Team of Professionals on Your Doorstep

in No Time!

All it takes is a simple phone call to our offices via 0121 794 8242, and we'll send over a team who'll handle whatever B23 rubbish disposal job you need doing. Whether you're a house owner or a business runner, if you're local to Short Heath, B23 we can give you the help you need. It doesn't matter whether it's a rudimentary waste removal Short Heath, B23 you want doing, or if it's a full scale property clear-out our guys can get the job done in no time, and for cheap! So contact Handy Rubbish today and take a load off!
List of services we provide

in Short Heath, B23
Household Rubbish Clearance Short Heath, B23
Commercial Rubbish Disposal Short Heath, B23
Building Waste Removal Short Heath, B23
Garden Rubbish Removal Short Heath, B23
Electronic Waste Collection Short Heath, B23
Garage Clearance Short Heath, B23
Wondering Why

We're The Short Heath Waste Disposal Company To Go For?

We have many years of experience under our belts, and that's more than enough to provide a rubbish removal B23 service hat's worth your time. We have a solid reputation for quality in the area, and tons of customer reviews to back that up! The finest service in the B23 is a big claim, and we aim to live up to the standards we've set. Our rubbish removal methods are evidence of that – we recycle everything we can and get even the biggest job done in no time!
Our B23 Waste Clearance Staff Will Have Things
Taken Care Of In No Time!
Our staff operates all around Short Heath and are true professionals, and that includes everyone. From the people who do the clearing to the customer support specialists who get things organised, you count on them all! We offer a solid range of Short Heath rubbish clearance B23 services in the area, and for the lowest price as well! Give us a call on 0121 794 8242, and we'll quote you a price that undercuts our rivals guaranteed!



Testimonials
Astounded by the waste clearance service in Short Heath B23! It was cheap and really worth it!
- Reviewed by Peter H.
Short Heath Sights, Sounds and Smells

Nestled in the Erdington constituency of Birmingham, Short Heath is a small area in the B23 postcode area. It's near to Perry Common and Stockland Green and is located a convenient half mile away from Erdington railway station. The 'short heath' that the area gets its name from was a sandy and pebbly soil land area east of Turf Pits Lane. The land these days is more verdant, and Short Heath Park proves that. The Park is a wide open space with play areas and woodland areas. Jerry's Lane Hovel is an eighteenth century Grade-II listed cottage owned by a farm labourer. It survives to this day, having been restored and sold on as a private residence.


DO YOU NEED ADDITIONAL SERVICES?