Rubbish Removal

South Woodgate B32

Call right now on 0121 794 8242 and book an appointment with Handy Rubbish for swift and simple South Woodgate, B32 rubbish removal. We will give you the lowest prices across all our rubbish collection services and help you free your life from unsightly junk. Our no obligation estimates allow you to select the exact services you want and pay accordingly. Whatever rubbish you have, we can collect as well as dispose of all of it for you.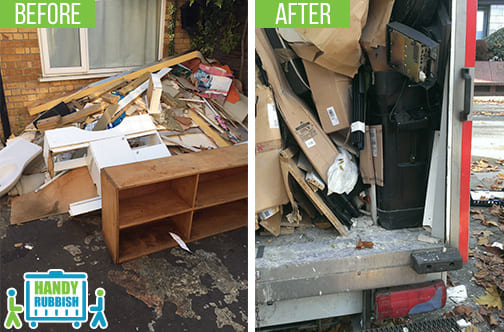 What we do
Where to find us
Like us
Book Cheap

Rubbish Clearance Service in South Woodgate

We have a team of experts who will be able to carry out the same-day service of helping to sort, tear and break up and package your rubbish. We carefully collect the waste from your property in B32 so that it can be loaded onto our vans. We will take our time so that no accidents or damages occur. You will get a great deal from us thanks to our dedication to delivering quality at affordable rates. Our great deals on South Woodgate waste collection services are just a phone call away so get in touch with us now.
Get Help

from the Top South Woodgate, B32 Rubbish Removal Team

Handling all the junk and rubbish you have can be difficult. It will be a burden in your workplace or home as it takes up space, ruins the look and atmosphere of a room, adds more effort to cleaning and can generally get in the way. You may have amassed a lot of junk briefly or have gained clutter over time. Whatever it is, rubbish disposal South Woodgate is necessary in order to get rid of it all. This job can be challenging and time consuming as you sort, bag, break up, carry, transport and dispose of these items. We can help you with your waste clearance B32 task, though. Call 0121 794 8242 anytime and Handy Rubbish will assist with all your junk disposal chores.
List of services we provide

in South Woodgate, B32
Household Rubbish Clearance South Woodgate, B32
Commercial Rubbish Disposal South Woodgate, B32
Building Waste Removal South Woodgate, B32
Garden Rubbish Removal South Woodgate, B32
Electronic Waste Collection South Woodgate, B32
Garage Clearance South Woodgate, B32
Five Things

Our B32 Waste Clearance Experts Will Do For You

We specialise in rubbish clearance South Woodgate, B32 and so can handle a huge range of items. Our services will cover safe disposal of your goods, ensuring that things are handled correctly as well as legally. We offer flexible rubbish disposal solutions so that you can book the right team for when you need them.
Top-notch

South Woodgate Waste Clearance Support

We vow to incorporate recycling heavily into our B32 waste removal service. Whatever junk we take away from you we will try to recycle it by turning it into something new or finding a new use for it. We will do this for over 85% of the collected goods. We do this so that items are not dumped in landfills or incinerated, as both these methods harm the planet. We also prevent more resources from being made into new items as old ones can be used for that purpose. We do this as part of all our waste collection and we do it all at no added expense for you. Call 0121 794 8242 to hire our South Woodgate waste disposal B32 and you can help the environment and get rid of your junk.

Testimonials
Had a huge pile of waste I needed to dispose of. Hired their rubbish removal team in South Woodgate to help me. They came prepared and did a brilliant job. Cannot complain about anything. Will recommend around B32!
- Reviewed by Ed H.
An Introduction to South Woodgate

South Woodgate is part of Birmingham and it is found between Bartley Green and Harborne. The area is also known as Woodgate Valley South. It carries the B32 postcode. Quinton, Blackheath, Halesowen and Frankly Green are all nearby. Bartly Brook flows through the area and Bartly Reservoir is also close by. Woodgate Valley County Park is found here, with Senneleys Park being also nearby and the largest open space in the area. The area used to be a small village for a long time with large-scale housing development not occurring until the 1970s. Hole Farm still stands here and houses rare and unusual breeds.


DO YOU NEED ADDITIONAL SERVICES?