Rubbish Removal

Spitalfields E1

The home is where the heart is, as they say, but neither the home nor the head want to be surrounded by a mess when relaxing in the comfort of the settee. A large mess can quite quickly accumulate over a few days, as you continue to add new items as the days go on. If your home is small, this can be even more problematic, as you won't have much room to move around, let alone for having visitors over to share the area. A large mess can bring your mood down and can make you feel unclean yourself, which is not a pleasant feeling, so we provide top-quality rubbish removal E1 services.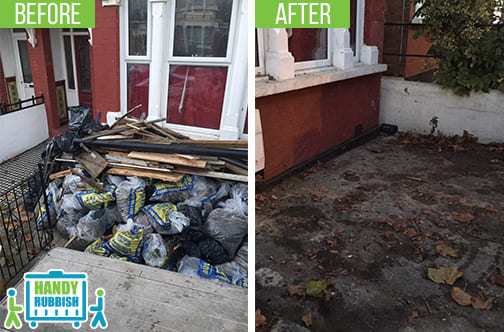 What we do
Where to find us
Like us
Book Cheap

Rubbish Removal Service in E1

If you have these problems but don't want to take care of the E1 rubbish disposal yourself, it may be worth contacting the clearance professionals to take care of business for you. You can make the whole process a lot simpler by enlisting the expertise of Spitalfields rubbish clearance professionals.A simple call to Handy Rubbish on 020 3540 8282 and you will be well on your way to having a home which you are proud to show off and happy to relax in of an evening.
Convenient

Rubbish Clearance in Spitalfields, E1

A thorough waste clearance E1, Spitalfields can be a good way to start afresh. It is a really better way to begin get rid of all the waste causing clutter, including furniture and electronics which only gather dust and take up necessary space. It is not even just a case of shoving the rubbish in a bin and letting someone pick it up, you need to be very specific when embarking in a waste disposal in Spitalfields. This means breaking everything up into pieces and ensuring they are disposed of in the right manner.
List of services we provide

in Spitalfields, E1
Household Rubbish Clearance Spitalfields, E1
Commercial Rubbish Disposal Spitalfields, E1
Building Waste Removal Spitalfields, E1
Garden Rubbish Removal Spitalfields, E1
Electronic Waste Collection Spitalfields, E1
Garage Clearance Spitalfields, E1
E1 Waste Removal Services
at Your Fingertips
As a top Spitalfields, E1 waste collection company, we at Handy Rubbish will be happy to take this task out of your hands, so you can free up your time to take on more exciting tasks! We will sort all your waste and break it up to be removed quickly and safely. You can get a free quote today by calling 020 3540 8282 and we will arrange to take care of your waste removal in E1 as soon as you need it. No matter what size is the job, whether it's a few items you need taken care of or a full office, we will be more than happy to assist you with your needs.
Testimonials
Handy Rubbish has the most loving, hardworking and skilled team in Spitalfields.
My wife really likes cleanliness to the highest of standards. That is why when we started living together, and both got caught up all day at work, we hired Handy Rubbish to be doing rubbish removal regularly for us. So far they have been of really great help. Cheers from Spitalfields E1.
Very much appreciate this Spitalfields E1 option for rubbish clearance, the Handy Rubbish team is very professional and works fast.
Amazing service! Used their waste clearance service in Spitalfields yesterday, and today, I was able to park in the garage for the first time in months. Great job.
Handy Rubbish is top notch when it comes to waste disposal, that's for sure. Handled my wife's basement clearance in Spitalfields E1 quick as you please.
Easy to work with rubbish clearance company in E1 and inexpensive services! I am moving to Spitalfields so I will hire them again soon!
Life in Spitalfields
Spitalfields is situated in the Borough of Tower Hamlets which covers both Central London and the East End of London. It is near to Liverpool Street Station and Brick Lane and is under the E1 postal area code. It is easily accessible from Central London and one of the main places of interest is the Spitalfields Market, which has been trading for more than 350 years. There are several other markets in the area, including Brick Lane Market and Petticoat Lane Market. There is also the Christ Church Spitalfields and the Pride of Spitalfields, amongst others. The Spitalfields Historic Building Trust is an interesting landmark of Spitalfields, which looks to rescue Georgian Houses in Spitalfields. The trust helped to preserve many 18th century streets in the area. Once upon a time, the area of Spitalfields was an abundance of fields and nursery gardens, up until the 17th century. There have been many notable people who have come from Spitalfields, including the notorious Jack the Ripper, Journalist John Nicholson and Film Director, Joe Wright.
DO YOU NEED ADDITIONAL SERVICES?