Rubbish Removal

Waddon CR0

At Handy Rubbish we are offering top level Waddon rubbish removal service for the lowest price in CR0. We have managed to build a good reputation in the area with unmatched quality service, fantastic customer support and truly competitive pricing. Our customers from the area are extremely happy with our services and that is evident from so many positive reviews on our website. With more than 98% satisfaction rate, we are setting very high standards for others to follow. Treat yourself to the best waste collection service in Waddon, CR0 for the lowest prices you will find anywhere. Call to book now on 020 3540 8282 and get amazing discounts that will make using our rubbish disposal services CR0 an even better experience for you.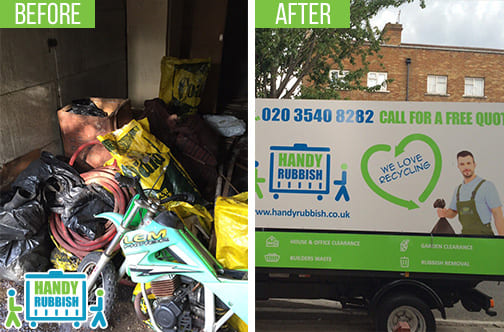 What we do
Where to find us
Like us
Book Cheap

Rubbish Clearance Service in CR0

Not only do we offer the cheapest waste removal service around Waddon, we are also thoroughly involved in caring for the environment. Of all the waste that is collected by us on a daily basis, 85% is recycled. We are also providing free information and advice to people who want to know more about waste management and how to minimise their rubbish. This endeavour on our part is a way of giving back to the society and we take it seriously. If you are also interested in caring for the environment without having to do too much and at the cheapest price possible, let us help you with waste disposal in CR0. Call us on 020 3540 8282 and discuss your job with us and we will immediately set you up with a fantastic deal.
Award-winning

Rubbish Removal Company in Waddon, CR0

At Handy Rubbish, we believe that in order to thrive as a company, we need to ensure great quality, excellent customer support and great value for money leading to customer satisfaction. To achieve that, we always have a personal approach to making customers happy and for that we carefully handpick our rubbish removal team and thoroughly train them to do their jobs to perfection and deal with customers in a polite, professional and amiable manner. Our CR0 rubbish clearance Waddon team are quick to build rapport with the customers and are always greeted cheerfully wherever they are working. If your first thought was a rugged looking man knocking on your door asking for the rubbish, don't blame yourself, a lot of people think like that. However, you will be highly surprised to see and deal with our professional clearance experts.
List of services we provide

in Waddon, CR0
Household Rubbish Clearance Waddon, CR0
Commercial Rubbish Disposal Waddon, CR0
Building Waste Removal Waddon, CR0
Garden Rubbish Removal Waddon, CR0
Electronic Waste Collection Waddon, CR0
Garage Clearance Waddon, CR0
Save Big with Our Cost-effective

Rubbish Collection Services in CR0

Our company is one of the most reputed rubbish removal companies working around Waddon. We have always been known to offer top-class services for affordable prices, however, recently, we have introduced further discounts that will make it a deal that you simply cannot refuse. With our loyalty and early bird discounts, you could enjoy our waste clearance services in CR0 with prices cut in half. This is a limited time opportunity that you should make the most of, while it lasts. Ring us at 020 3540 8282 for more details regarding our pricing and discounts. If you want the best junk removal service for the cheapest possible prices, get in touch with us right away!

Testimonials
Needed to declutter my garage in CR0 so I hired their rubbish clearance service in Waddon. I am satisfied with the service as well as the price!
- Reviewed by Gloria L.
Waddon at a Glance

Waddon is located in the London Borough of Croydon. It is located in Travel Zone 5 and to the west of central Croydon, and it borders the Borough of Sutton. Croydon Pirates, one of the most successful team in British baseball federation are based out of Waddon and play at Roundshaw. Waddon Leisure Centre is both a landmark and a major local attraction offering swimming, gym and convening facilities. Other landmarks include the Waddon Hotel and the Stafford Parade. Waddon railway station is managed by the Southern line. The station falls between West Croydon and Epsom Downs and Sutton.


DO YOU NEED ADDITIONAL SERVICES?