Rubbish Removal

Wembley HA0

Old items, damaged goods and unwanted belongings will all take up space in your home or office. They will prevent the place from looking good, disallow you to buy new things, make it difficult to clean and move and more. You can deal with all these unwanted situations with Handy Rubbish though. We are the leading Wembley rubbish disposal team that can help you get rid of all that waste. Call 020 3540 8282 now and our expert staff can arrive and get to work even in the same day. They will shift all your old and undesirable items, leaving your with a clutter free abode in HA0.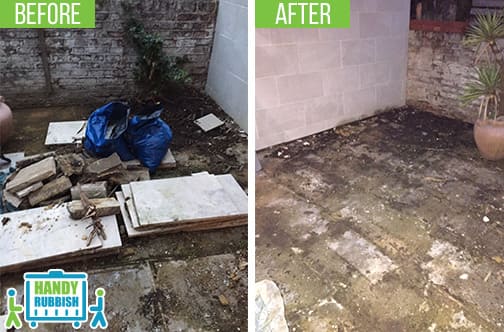 What we do
Where to find us
Like us
Book Cheap
Rubbish Clearance Service in HA0
After decorating and building work, you can be left with a lot of junk. It can get in the way, be dangerous and ruin the look of your improved building. If you want someone to help with your Wembley waste removal HA0, our team will arrive in HA9 and safely collect all the unwanted items. Our experts will take great care to ensure a secure result, but still have the job done quickly. All of the debris, packaging, tools, materials and waste left behind will be a thing of the past thanks to our fast acting construction clearance team.
Hire Our Dedicated
Wembley Waste Removal

Specialistst and Get the Job Done Swiftly

Our Wembley HA0 waste clearance services can be of great help to you. Our trained staff can help you with garden waste disposal. Call 020 3540 8282 now to tell us what kind of clearance needs you have. Our rubbish removal HA0 team will arrive and quickly remove all the junk from your garden. Whether it's large items such as furniture or shed, or small items like ornaments and stones, we will have the place cleared of all the junk. You will soon have your garden left looking cleaner, without you needing to do any of the work.
List of services we provide

in Wembley, HA0
Household Rubbish Clearance Wembley, HA0
Commercial Rubbish Disposal Wembley, HA0
Building Waste Removal Wembley, HA0
Garden Rubbish Removal Wembley, HA0
Electronic Waste Collection Wembley, HA0
Garage Clearance Wembley, HA0
Getting Rid of Old Furniture is Easy with Our
Wembley HA0 Waste Clearance Team
Shifting furniture can be a difficult chore. Tables, chairs, cabinets, cupboards, drawers, wardrobes, etc. are heavy and unwieldy. Getting them out of the building is difficult and then transporting them even more so. This shouldn't be an issue with us handling your waste disposal Wembley though. We will send our team to your property in the district of HA9 and they will shift all the old furniture for you. They will do this carefully and use their experience to ensure there are no damages or injuries. We will get things outside, onto our vans and take them way to be destroyed, disposed or recycled. Our thorough furniture clearance services provide all the support you need and give you the best results.
We Are Completely Proficient in
Waste Removal in Wembley HA0
We offer a free estimate when you contact us on 020 3540 8282. This deal is cost-effective and ensures a flexible rubbish clearance Wembley HA0 service. We will give you all the info and answers you need, so you can discover what you want from us. You can pick and choose as you need, and you won't be stuck in any contract. You are assured of a price that you can afford the services you need and you see it all in advance. Handy Rubbish guarantees the best waste collection services in Wembley, so call us now for your free quote.

Testimonials
I found their team to be friendly, professional, and the waste disposal service in HA0 was very affordable too! Would definitely recommend them to my friends in Wembley!
- Reviewed by Myra H.
Learn a Little, Live a Lot: Wembley
Wembley is an area in the north of London and is part of the Borough of Brent. The area has slowly transformed over time, from the village of the mid 16th century, through the introduction of a mill in the 17th century and the railway coming in the 19th century, to what it is today. Wembley is a diverse place that is next to the Grand Union Canal. It is close to Brent Park, Tokyngton, Alperton and Harrow on the Hill. The main shopping area is being enhanced and new leisure facilities are planned. Wembley Arena is the major landmark of the area, which attracts millions each year to enjoy top entertainers, musicians, sports stars and more.


DO YOU NEED ADDITIONAL SERVICES?