Rubbish Removal

West Harrow HA1

Working out how you are going to do your waste removal in West Harrow, HA1 will often throw up some questions. These will always be questions that we can answer, but by the time you have started asking them, you may realize that it is too late. Instead, why not call Handy Rubbish today, for some free advice, and more information on how we could potentially help you out? You will find that our junk removal services cover all of the bases when it comes to clearing your space. We can cater for large commercial building jobs, or small domestic clearance tasks. Whatever you need for your HA1 rubbish removal, you should call us.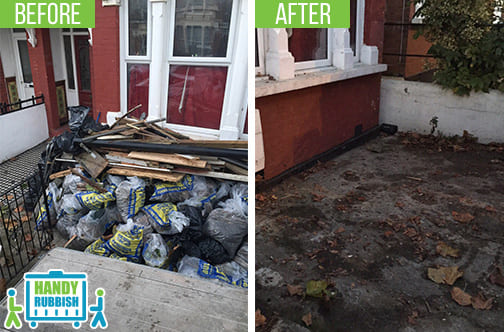 What we do
Where to find us
Like us
Book Cheap

Rubbish Clearance Service in West Harrow

Our team are specialists in their field, and will be the perfect combination of strong and careful. We know that clearing large amounts of rubble from a home can cause damage if not done carefully. We also know that other clearance matters can make a mess. Our waste disposal HA1 is always clean, efficient and green. You may well find that just talking to us on the phone will give you enough of an insight to get the work done yourself, but sometimes it can be a near miss. Many people that we talk to realize that they really do need professional help, as they don't know where to start with the process! Call us on 020 3540 8282 to know more about our West Harrow waste clearance services.
Finding
the Best

in Waste Removal in West Harrow

With larger rubbish disposal West Harrow, we can ensure that the job is done cleanly, and most of all, in a way that is safe for the environment. Waste management is a large issue when it comes to caring for the planet, and we at Handy Rubbish take it very seriously. You will find that our junk clearance team is conscious of the different recycling that needs to be done on various items.
List of services we provide

in West Harrow, HA1
Household Rubbish Clearance West Harrow, HA1
Commercial Rubbish Disposal West Harrow, HA1
Building Waste Removal West Harrow, HA1
Garden Rubbish Removal West Harrow, HA1
Electronic Waste Collection West Harrow, HA1
Garage Clearance West Harrow, HA1
For The Best Rubbish Removal in HA1,
Choose Us
We will always avoid landfill sites if we can as well. Sorting through your junk and recycling it all correctly is a big job and one that you probably want to avoid. Why not let us do the dirty work on your West Harrow, HA1 rubbish clearance? Whether you need amazing garden waste clearance in the HA2 area or just a small amount of furniture taken away, call us today.
Our Expert HA1 Waste Disposal Team is
Always Prepared Beforehand
Getting in touch on 020 3540 8282 will mean that we can talk to you about the different aspects of your job. We can let you know what you need and give you a quote for the work as well. The only thing you need to do to is to hire our West Harrow waste collection HA1.


Testimonials
Handy Rubbish removal services are out of this world. Best Rubbish Removal Company in HA1.
My brother had asked me to recommend a great junk removal company in HA1. It didn't take me much time to read some reviews on Handy Rubbish before I decided that they were the ones I would recommend. Later that week she called me to thank me for recommending such as a great company.
Happy with this West Harrow HA1 rubbish removal service because they take care of everything from start to finish. Thank you, Handy Rubbish.
Thrilled with my new, tidy house! I used Handy Rubbish to clear away all my old junk, and it's fair to say, I feel reborn! Highly recommended to anyone needing junk removal in West Harrow.
Booked Handy Rubbish to remove some rubbish from our lot in West Harrow HA1, which they did and at a good price.
I can't believe how easy it was to hire them for waste removal in West Harrow HA1! It was affordable too!
Where to go and what you will find in West Harrow
West Harrow is place on the western side of the London Borough of Harrow, in the north west of London. The area takes its name from its placement, and sits amongst Harrow on the Hill, North Harrow, Green Hill and Ryan's Lane. The region is mostly residential, as is most of Northwest London. This residential tendency in the area stems from the fact that the area was mostly rural until the metropolitan line extended to Uxbridge. This led to homes being built and it was too late for much other use of the land. With its large expanses and lessened connections, the area was perfect for residential building, rather than any other sort of urban development. West Harrow has its own stop on the metropolitan line, making it easy to get to, though areas this far northwest can often take a while to get to. The metropolitan line has rather longer distances between stops here than more centrally.
DO YOU NEED ADDITIONAL SERVICES?