Rubbish Removal

West Heath SE2

We are an experienced and professional waste removal service in West Heath, SE2. We know that getting rid of your junk and waste may seem like a simple job that does not need a huge amount of effort or thought, but in fact it can throw up some real issues. For instance, how are you going to transport a large load? When can you make time to do so? What days are the facilities that you need open on? What facilities do you even need? We can answer all of those questions by removing the workload from you. There is a lot that we can do to ensure that you are not stressed by your waste clearance SE2. Finding out that there is a team that can get the rubbish out of your head immediately is a big relief for many.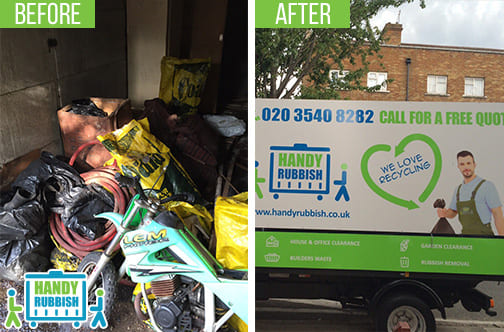 What we do
Where to find us
Like us
Book Cheap

Rubbish Clearance Service in West Heath

We know that we have the right vehicles, and excellent relations with the recycling and landfill sites. This means that we can safely and correctly dispose of your junk items with ease. Your West Heath waste disposal has never been easier than this; you can trust us completely! Our junk disposal team is well trained and experienced. This means that we can get the job done with speed and precision, so that no mess or trace of your waste is left behind. We can provide you with the best rubbish removal West Heath. Call Handy Rubbish on 020 3540 8282 today for more information.
How Will You Get

Your Waste Clearance in West Heath Sorted?

Maybe you are trying to get rid of scrap items from a spare room before you move house. Perhaps you need to get rid of a huge number of old office machines. Either way, we can help you get the job done. Our SE2 rubbish disposal is second to none when it comes to getting your surplus items and waste away.
List of services we provide

in West Heath, SE2
Household Rubbish Clearance West Heath, SE2
Commercial Rubbish Disposal West Heath, SE2
Building Waste Removal West Heath, SE2
Garden Rubbish Removal West Heath, SE2
Electronic Waste Collection West Heath, SE2
Garage Clearance West Heath, SE2
We Are the One You Need

When it Comes To SE2 Reliable Waste Disposal

We can recycle the machinery or household items in a way that is safe for the environment, and better for your conscience! You will find that for larger and messier waste clearance jobs, we can get it all out with our specialist West Heath, SE2 rubbish clearance teams, leaving the place looking spotless. Building works can be a messy job, and we know that removing a large amount of the detritus and salvaging the best from it can make your place feel a lot more inhabitable!
Need Help With Rubbish Removal in SE2?
Hire Us!
Whatever you need, we can help, and give you great prices on the West Heath waste collection SE2 as well. Why not get in touch with Handy Rubbish on 020 3540 8282 today, the best rubbish disposal in West Heath?
Testimonials
Wow, Handy Rubbish is definitely something. Best rubbish removal company in SE2.
Was looking for West Heath junk collection help and Handy Rubbish came through for us, took care of the mess.
Very professional rubbish clearance service in West Heath. Handy Rubbish has saved me from losing my mind - my home is finally neat, tidy, and clutter free. I've already recommended them to a couple of colleagues. Keep up the good work.
Fast and accurate waste disposal company in West Heath SE2. Handy Rubbish's workers do it all for you, which we appreciated. They grab it, load it and haul it away. Can't' ask for more!
The best waste collection company you will find in West Heath! They also offer some great deals to the residents in SE2 so I took advantage and saved big! Would highly recommend!
Getting the most from West Heath
West Heath is in the south east of Greater London, in the London Borough of Bexley. It borders on the Borough of Greenwich, being just north of Bexleyheath. The area is one that is mainly residential, and has a lot of open space. As an area that sits between London and Kent, West Heath is perfect for commuters who want to enjoy both proximity to the urban centre of the Capital, and the open spaces of the countryside. The area is one with mixed views, from natural landscapes to less pretty built-up areas. However, the bordering parks and historical buildings of Greenwich provide enough to look at. Greenwich observatory and the park surrounding it are amazing places to visit. The area shares its name with a school called the 'new school at West Heath' which is in nearby Sevenoaks, in Kent. The school caters for children who need extra help with learning, though not necessarily due to disability.
DO YOU NEED ADDITIONAL SERVICES?