Rubbish Removal

Nag's Head N7

Have some rubbish in your N7 property that you need to get rid of? Don't want to pay a huge amount for Nag's Head rubbish removal but still want to receive a professional service? Give Handy Rubbish a call and we'll provide you with exactly what you're after. Our services in Nag's Head are reasonably priced, reliable and designed around you. Call us on 020 3540 8282, enquire about our waste removal N7 services and you'll receive a free estimate with absolutely no obligation required – although we're sure you'll book when you hear our prices.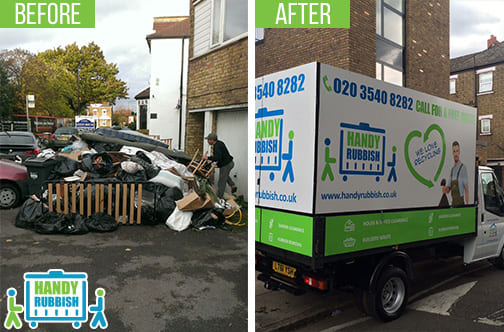 What we do
Where to find us
Like us
Book Cheap

Rubbish Clearance Service in Nag's Head

It would be easy if we could just chuck everything into a landfill. We could, but that's not how we do things at Handy Rubbish. When carrying out Nag's Head, N7 rubbish clearance services, we do things properly; that means sorting through your rubbish and reusing everything that can possibly be recycled, taking your items to a local recycling centre instead of dumping them in the ground to fester away. Our rubbish removal packages are truly eco-friendly – find out more today by contacting us on 020 3540 8282 and enquiring about our practices.
We Are an
Eco-Friendly

N7 Waste Clearance Company Determined to

Make a Difference

If you've got a loft full of clutter in your loft, with us available in N7 there's no need to lift a finger to get rid of it. Our trained N7 waste disposal experts are fully capable of addressing your needs, so get in touch with us and let us give you a helping hand. Hire us to take care of attic junk disposal and you'll benefit from a reliable, professional service. Our effective work methods mean we're able to take on any job in Nag's Head, regardless of how much junk you have stored away in your attic.
List of services we provide

in Nag's Head, N7
Household Rubbish Clearance Nag's Head, N7
Commercial Rubbish Disposal Nag's Head, N7
Building Waste Removal Nag's Head, N7
Garden Rubbish Removal Nag's Head, N7
Electronic Waste Collection Nag's Head, N7
Garage Clearance Nag's Head, N7
Fast and Reliable

Nag's Head Waste Disposal

Here at our company in Nag's Head we offer full, comprehensive garden waste collection Nag's Head services, giving your garden the professional clear out it needs. We work to your individual preferences, so as long as you clearly specify what needs to be cleared out, we'll get to work and take care of the process. Garden vegetation, green waste, items of garden furniture are just a few of the things we can clear away. So regardless of your specific requirements, we'll be able to help. Hire a garden waste removal service today by calling us on 020 3540 8282.
Nag's Head, N7 Rubbish Removal
Solutions for All Types of Junk
Rubbish disposal Nag's Head, N7 services don't have to cost you the earth, especially when you hire our company. With competitive rubbish removal offers, we're sure that you'll be surprised, especially when comparing us to others in the local N7 area. We like to keep our prices transparent and simple so that it's clear what it is you're paying for. When you call us and receive a free estimate, you'll pay what you're quoted – there'll be no unexpected surprises. Get started and give us a ring today to book the top Nag's Head waste clearance N7.

Testimonials
Wouldn't normally bother hiring a waste disposal company in Nag's Head, but had so much junk after some home renovations, and didn't have time to deal with it myself, so called in their team. So pleased with what they did; honestly made it so much easier, and it's good to know that the rubbish is recycled as much as possible, as I hate seeing things go to waste. Also couldn't believe how low your prices were, cheapest anywhere in N7.
- Reviewed by Adrian P.
The Uniquely Named Locality in Holloway

Nag's Head, found in the London Borough of Islington, is a locality in the inner-city district of Holloway named after the famous public house, Nag's Head which was closed down in 2004. The pub's Victorian building – now a gambling establishment at the Holloway Road junction, is close to Seven Sisters Road and Camden Road – easily accessible from the rest of London. Aside from the pub, the area's main shopping district is behind Holloway Road – the Nag's Head Shopping Centre and the Nag's Head Market; in the former you'll find a number of different shops such as the James Selby department store.


DO YOU NEED ADDITIONAL SERVICES?