Rubbish Removal

Woodford E18

Whatever it is that you need to get rid of, we can help. There are many different Woodford rubbish removal jobs that we have done in the past, and we know that we have the experience to help you. No matter what E18 waste clearance service you need in Woodford, we can make sure it is done for you. We can provide for domestic junk clearance services. If you are freeing up some space in a study or a spare room, then you need someone to take away all of the mess that comes out of there. You may be doing a clearance of the garage, and don't have time to sell it all, or recycle it. We can make sure that everything is removed and recycled correctly.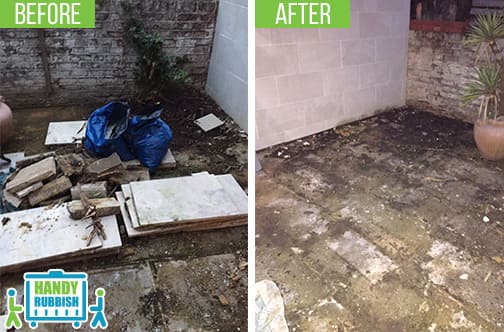 What we do
Where to find us
Like us
Book Cheap

Rubbish Clearance Service in E18

When you are considering your waste removal in the E18 area, you may feel like you can do the job yourself. However, when it comes to finding the right van, and getting round to doing the job, you will have wasted a day or so! We can get the job done in no time. With our rubbish clearance team in Woodford, E18, there will be no trace of your waste, in no time. We turn up, load up, and get it all out of your way! Why not call Handy Rubbish today on 020 3540 8282 for more information on our waste disposal services available in Woodford.
Exceeding Your Rubbish Removal

Expectations in Woodford

When you are looking into clearances, you know that you need professional service. We can supply amazing rates for our expert team. They have the knowledge and experience to get your waste disposal E18 sorted with ease. You will not find a better E18 rubbish disposal team for the prices that we charge either. You should be concerned that you may be able to get a cheaper rate, you will usually find that other services do not match ours in terms of quality. We know that other companies will try to compete with us in terms of prices, but you cannot invent experience, and the fact is that we have it in abundance!
List of services we provide

in Woodford, E18
Household Rubbish Clearance Woodford, E18
Commercial Rubbish Disposal Woodford, E18
Building Waste Removal Woodford, E18
Garden Rubbish Removal Woodford, E18
Electronic Waste Collection Woodford, E18
Garage Clearance Woodford, E18
Getting the Best

Waste Clearance in Woodford

With the sort of prices that we charge in the IG8 area, you could likely end up paying more doing the job yourself in a rented van! Many people that we help out agree that the effort of doing the trips to various recycling and waste facilities can be a real time waster! Why not let us help you with it and for a small fee completely absolve you of the responsibility? Value for money is something that we pride ourselves on, so call Handy Rubbish on 020 3540 8282 to hear more about our Woodford waste collection E18 prices.
Testimonials
Most affordable junk clearance services in Woodford E18, will not hesitate to hire your services again.
It was a really quick and affordable junk removal in Woodford. Will hire again soon.
Was looking for Woodford garden waste clearance, found Handy Rubbish and tried them, they worked fast and we got a great rate.
Thank you for taking a massive weight of my shoulders! I've been dreading sorting out the house in time for moving, but you managed to get the job done in next to no time and with minimal effort from me. If I ever move back to Woodford, I know who I'll be using for my junk removal! Thanks again.
Handy Rubbish got that old piano out in two shakes. That's it, that's all we needed. The price was fair for Woodford, and workers nice and congenial.
Got a great discount for my rubbish disposal job in E18 when I got in touch with their team. They're already the cheapest company in Woodford, but they offer seasonal discounts and special offers. Acquiring their services was a steal.
Woodford bound!
Woodford is an area in the East of Greater London, within the London Borough of Redbridge. The area has enjoyed an affluent middle class residential aspect, having been developed from a rural collection of hamlets and villages into a much large area in the middle of the 19th century. The railway from Stratford to Loughton opened up the area for building, and the population of Woodford doubled. In between the World Wars, the large houses of the rich land owners were torn down as the land was bought up to accommodate the hunger for property around London. The region is now connected to the city by the Central Line, which runs through from Essex via Oxford Circus to the western reaches of London, which makes it a perfect area for commuters. Despite that, it has its own thriving community separate from London as a whole, much like other satellite towns to the city.
DO YOU NEED ADDITIONAL SERVICES?