Rubbish Removal

Southgate N14

No one particularly relishes the thought of clearing up piles of rubbish, unless it's what they do for a living! When the home is relatively small, the accumulation of waste on a daily basis can easily get out of hand, utill the moment where there's no space to actually move. Larger homes also suffer when waste starts to gather and at the end waste disposal Southgate becomes a necessity! It is essential to get the place into order, before it becomes a huge problem, so book a waste collection Southgate N14 today!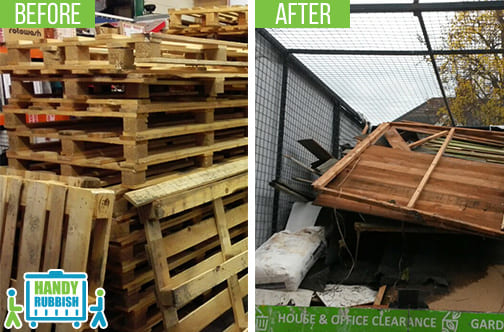 What we do
Where to find us
Like us
Book Cheap

Rubbish Removal Service in N14

If the thought of messy house at night is getting you down, a home clearance may definitely be in order. Whether you are in dire need of getting rid of large items such as furniture taking up space or you need to dispose of a lot of smaller items, a N14 rubbish clearance will be the answer to your problems. You may be able to get rid of your unwanted waste with a simple waste removal N14 service, however in other circumstances, you may need to take the items to a specific place to get rid of them safely. This isn't always easy, particularly if you're not entirely sure what to do with them!
N14 Waste Collection Service
to Suit Your Needs
Instead of taking all of this on yourself, you may want to call on the services of a Southgate waste clearance company. With expertise in disposing of waste and getting homes and offices back to working order, you can call Handy Rubbish and we will offer help and support. With expertise in knowing how to dispose of the waste safely, we will take care of the task for you and leave you to get on with more interesting tasks. You can call us on 020 3540 8282 and we will handle your query quickly and efficiently and give you more information about our rubbish removal in N14!
List of services we provide

in Southgate, N14
Household Rubbish Clearance Southgate, N14
Commercial Rubbish Disposal Southgate, N14
Building Waste Removal Southgate, N14
Garden Rubbish Removal Southgate, N14
Electronic Waste Collection Southgate, N14
Garage Clearance Southgate, N14
Simplifying Your

Southgate Rubbish Clearance

No job is too big or too small for us, we can handle everything and before you know it, and your premises will be back to pristine condition. Call us today to find out more and we'll be more than happy to assist. If you need advice for your rubbish disposal in Southgate and want to speak to professionals, call Handy Rubbish on 020 3540 8282 and they will tell you more about getting the most out of your home.

Testimonials
Wonderful rubbish removal job in N14 at an affordable cost. Now I know which firm in Southgate to hire when I need professional help!
- Reviewed by Faith
Living in Southgate
Southgate is in the N14 area in north London, in the Borough of Enfield. It is north of Charing Cross in WC2, around 8 miles apart in distance. There are various places of interest to look out for in Southgate. The Southgate tube station is one of these, as well as the large green parts in the area, including Grovelands Park. There is also the famous Christ Church, which is situated in Waterfall Road and was built in 1862 by Sir Gilbert Scott. This building is made of stone, with some additional features which includes the tower and spire. The largest oak tree in England lies within the grounds, and perhaps also the oldest at around 800 years. You will also find the Walter Cricket Ground which dates back to 1859. There have been a number of famous faces to come from Southgate, including Rachel Stevens from S Club 7 and the late Amy Winehouse. Rachel Whiteread, a Turner Prize winning student, also came from Southgate. The area has definitely seen its fair share of talent over the years.
DO YOU NEED ADDITIONAL SERVICES?