Rubbish Removal

Woodgate B32

Despite what you might think and the perceptions you've gained over the years about the Woodgate rubbish removal industry, the process of rubbish disposal doesn't have to be a headache. Book with the right company and you'll be able to get your waste clearance B32 requirements sorted without putting yourself through the ringer. That's why we're here, operating in the area of Birmingham. Handy Rubbish is that right company, and are available to take care of all of your requirements – regardless of how large-scale the job may seem – because we know that sorting out a large amount of junk without some sort of professional help can be a real struggle.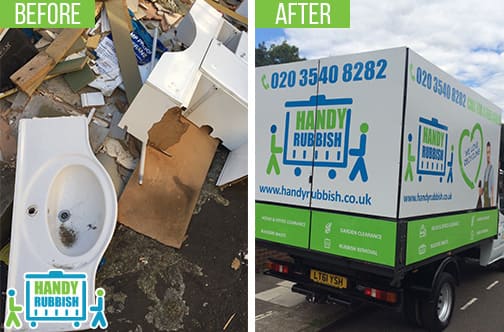 What we do
Where to find us
Like us
Book Cheap

Rubbish Removal Service in B32

At Handy Rubbish we differ from the majority of the other Woodgate, B32 waste removal companies because we don't take the easy option – we don't carry out waste removal in haste and just transport everything to landfill, even though it would be more convenient. But we don't see diverting your unwanted items to recycling plants as a hassle because we've been carrying out such waste disposal B32 practices for years. The process of carrying out eco-friendly clearances is engrained in our company's ethos and is something our entire workforce abides by. To gain further insight into our environmentally friendly ways, contact us today on 0121 794 8242 and speak to our staff.
We Offer Award-winning

Rubbish Removal in Woodgate

Our B32 waste collection services are held in such high regard simply because we know what our customers want and we implement our services to the highest of standards. We provide simple, hassle-free services; the logical alternative to skip hire if you fancy saving yourself a bit of money. Recycling is what we're all about; we focus on eco-friendly rubbish clearance in Woodgate, diverting as much as possible away from landfill. We'll provide you with all-round value; our services are cost-effective, so give us a call on 0121 794 8242 and get your free estimate today. We can take care of anything you want, regardless of how much rubbish you need to throw away.
List of services we provide

in Woodgate, B32
Household Rubbish Clearance Woodgate, B32
Commercial Rubbish Disposal Woodgate, B32
Building Waste Removal Woodgate, B32
Garden Rubbish Removal Woodgate, B32
Electronic Waste Collection Woodgate, B32
Garage Clearance Woodgate, B32
No Mess, Stress or Fuss – Hassle-Free

Rubbish Removal in Woodgate, B32

You may have looked for rubbish removal services in the past, learnt about some of the prices these companies in Woodgate offer, seen that they're cheap as chips and then instantly disregard them on the basis of there being a compromise on quality and the overall level of service. In most instances you won't be wrong to do so. But place one call to us, get your free price quote and we guarantee that you won't be disappointed. You can get the best of both worlds with our company; cheap rubbish disposal in B32 that will provide you with exactly what you want. So what are you waiting for? Get booking by calling us on 0121 794 8242!

Testimonials
The waste collection in Woodgate B32 was handled quite well, and at a competitive price. Definitely worth calling!
- Reviewed by Jack A.
The Peace and Tranquillity of Woodgate

The area of Woodgate, consists of mainly countryside; it's a rural area with plenty of greenery, country parks and wide open spaces. . It's situated between Bartley Green and Harborne and consists of three parts; Woodgate Valley, Woodgate Valley North and Woodgate Valley South. Woodgate Valley Country Park used to be farmland, but today it's used as a conservation area and is mightily popular due to its many public footpaths. There's a visitor's centre catering to the public towards Bourn Brook, and there's also a lot of medieval heritage associated with the area.


DO YOU NEED ADDITIONAL SERVICES?