Rubbish Removal

Wormwood Scrubs W12

The current economic times are tough, and the idea of hiring a rubbish removal W12 company to do your dirty work and the subsequent cost of money is stressful. Don't worry – we at our rubbish removal W12 agency know exactly how important saving money is, and with us you can be sure to find a deal which suits you. Our low prices beat the prices of all other local companies which offer the same waste collection in Wormwood Scrubs, W12 and not only that, but our quality work-rate also stands out from the rest. If you're unsure about how much you will need to spend, you can call us for free on 020 3540 8282 and we'll be happy to negotiate! If you change your mind after booking with us, don't worry, you can cancel any time, free of charge. Book now!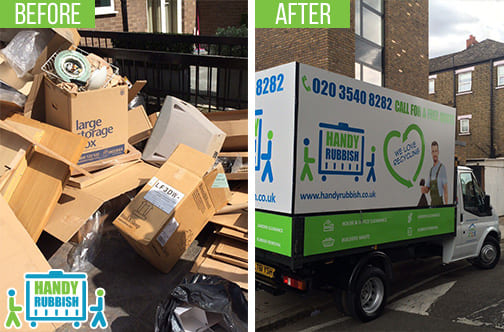 What we do
Where to find us
Like us
Book Cheap

Rubbish Clearance Service in Wormwood Scrubs

When it comes to W12 rubbish disposal, it is difficult to find a company which will offer you better prices and better work than we do. At Handy Rubbish, we have been the leading service in the removal of rubbish throughout numerous areas, so think of no other company than us when it comes to getting rid of your junk.
Look No Further Than Us

For the Best Wormwood Scrubs, W12 Rubbish Removal Services

We have many deals and qualities, as well as a skilled team, which will convince you of your top-class work. If what you are looking for is quick and quality work, then all you have to do is pick up the phone and call us on 020 3540 8282 for our Wormwood Scrubs, W12 waste clearance services and for certain satisfaction. Book today!
List of services we provide

in Wormwood Scrubs, W12
Household Rubbish Clearance Wormwood Scrubs, W12
Commercial Rubbish Disposal Wormwood Scrubs, W12
Building Waste Removal Wormwood Scrubs, W12
Garden Rubbish Removal Wormwood Scrubs, W12
Electronic Waste Collection Wormwood Scrubs, W12
Garage Clearance Wormwood Scrubs, W12
Quality

Wormwood Scrubs Waste Removal with Us

In these modern times it is important to protect the environment, and as a leading company dealing with rubbish clearance Wormwood Scrubs, we have certainly adapted to such times. At Handy Rubbish we make sure that your rubbish is dealt with in the best way possible. Around 85% of your discarded rubbish is given to recycling – just think that getting rid of your rubbish will do good for both you and for the environment! So don't act carelessly by throwing your rubbish by the wayside – give it to us to take care of. You won't have to do any of the work and it serves as your bit for the environment. Act now by calling today on 020 3540 8282 and do both yourself and the environment a favour by booking our cheap Wormwood Scrubs waste removal services!
Why Our W12 Waste Collection Team are
Simply the Best in the Whole Area

?

We always make sure to put our customers first, and one of the ways in which we do so, is by giving you our skilled team of workers. Our professional and fast acting team will handle your rubbish removal in Wormwood Scrubs with care, making sure that you get the best value for your money. Each one of our workers has been subjected to extensive background checks and training which is designed to make them the best in the business. Our workforce is indeed the number one team in the business, so why book with anyone else? Call today on 020 3540 8282 and let our Wormwood Scrubs waste disposal W12 team do all the rest!



Testimonials
Brilliant rubbish removal company in Wormwood Scrubs! Took advantage of their cost-effective deals in W12 and became a loyal client. Tried it many times and they never fail to please!
- Reviewed by E. Wiley
What's It Like in Wormwood Scrubs?

Also known simply as 'The Scrubs', Wormwood Scrubs is a large, open-area, located in the north-east of the London Borough of Hammersmith and Fulham. The area offers a pony centre, many football pitches and other sports facilities such as the Linford Christie Stadium. Historically, the main building in this area was its prison. Today, many of the area's most rural aspects are in fact nature reserves, featuring many woods and wildlife. The area also offers two hospitals. The nearest tube stations are: East Acton, North Acton and White City. Nearby places include: Kensal Green, White City, Braybrook Street and North Kensington.


DO YOU NEED ADDITIONAL SERVICES?