Rubbish Removal

Yeading UB4

When you are trying to get a load of waste material moved, you may find that you come up against a few issues. One of them will be man power. People assume that it will take them a lot less time than it does to get things loaded into their vehicle, and unloaded at the other end on their own. This is especially the case if you are doing builders waste disposal in the UB4 district. Secondly, people rarely have an appropriate vehicle for the waste removal Yeading job. We have heard nightmare tales of people's cars being ruined because bags of waste material have spilled and caused havoc in the interior of the car.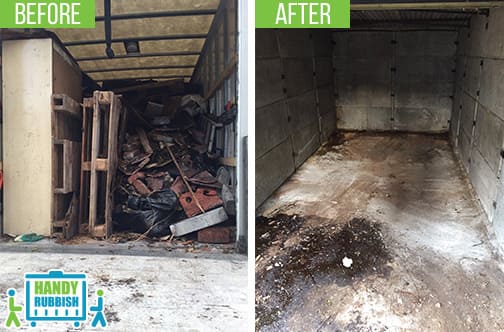 What we do
Where to find us
Like us
Book Cheap

Rubbish Clearance Service in UB4

Use Handy Rubbish for the UB4 rubbish disposal job. We can make sure that we fit things into your schedules, so that there is absolutely no inconvenience caused to you. You will find that if the junk and waste materials are prepared correctly, it will be much like putting the bins out. Our rubbish removal Yeading team are all polite, friendly and quick workers. You will find that they leave behind no trace of the waste that they have just removed. Call us today on 020 3540 8282 and we can let you know more about the rubbish collection services that we offer.
You Don't Get Better Than Our Professional

Rubbish Removal in UB4

With our rubbish clearance services in the UB4 region, you will find that you get amazing value for money. We can always ensure that the job is done without any hassle to you, and for an excellent price. It may seem silly to be paying simply to get rid of things, but sometimes there is too much for the council to take for free. After all, you don't want huge amounts of waste sitting around outside your home or workplace, do you? You should make sure that you get in touch with our UB6 waste collection team at Handy Rubbish as soon as possible on 020 3540 8282.
List of services we provide

in Yeading, UB4
Household Rubbish Clearance Yeading, UB4
Commercial Rubbish Disposal Yeading, UB4
Building Waste Removal Yeading, UB4
Garden Rubbish Removal Yeading, UB4
Electronic Waste Collection Yeading, UB4
Garage Clearance Yeading, UB4
The Best

Waste Disposal in Yeading

When you call us, we can give you free advice about how best to go about sorting your rubbish removal in Yeading, UB4. This is a service that we offer gladly, as we often find it helps people to understand the ins and outs of the waste clearance business. Whether you end up using us after that advice or no, it doesn't really matter! Our rubbish collection rates are as low as possible, and our service - as good as it is. We always have clients and plenty of business.
Testimonials
Their junk removal services are the most affordable in Yeading UB4. They will always leave you satisfied.
Their junk removal services in UB4 are so affordable. They will always leave you surprised.
Very happy with the waste collection service in Yeading UB4 we got from Handy Rubbish, thank you so much.
I highly recommend this company for anyone needing cheap rubbish collection Yeading. I've never had any cause for complaint with them and have recommended them to quite a few of my friends and family. Certainly saves the time and effort of hiring your own skip!
My compliments to their hardworking guys who did such an amazing job with the rubbish clearance at our warehouse in Yeading. This helped us so much, so just wanted to let people here know how great you guys are!
Hiring their waste clearance service in UB4 proved to be a lucrative deal. I was mightily impressed with what I got for what I paid; I'll definitely be hiring them again for jobs in Yeading!
What's been and what's on in Yeading?
Yeading is an area in the west part of Greater London. It is located in the London Borough of Hillingdon. The area is a fairly rural one, despite being suburban. In fact it was still almost entirely rural up until the First World War, with some of the roads only navigable by foot. The war meant that proper roads were built, but even after World War I, the main square had no gas or electricity. People used open fires and tanks of gas to cook and live by. With the area remaining fairly quiet, Yeading is now a nice place to visit for exactly that tranquillity. The region was developed with some prefab housing estates after the Second World War, which made it a more residential area, with links to London by road and bus. The Grand Union canal runs close by the area, providing the historical brick makers of Yeading with a way to transport their wares. Nowadays, however, the Quayside has a range of nice cafes, restaurants and shops, forming a sort of a small marina.
DO YOU NEED ADDITIONAL SERVICES?