Rubbish Removal

Havering-atte-Bower RM4

Suburban living often means that we have more space. More space also means that we have more space to stack up all our furniture which leads to junk. This then leads you to thinking about RM4 rubbish disposal. It may seem like a vicious cycle, something that our team at Handy Rubbish can help you to break out of. It's tempting to just stick last season's furniture out on to the patio, however with our home clearance services; you can have all your yard cleaned within the hour! How amazing!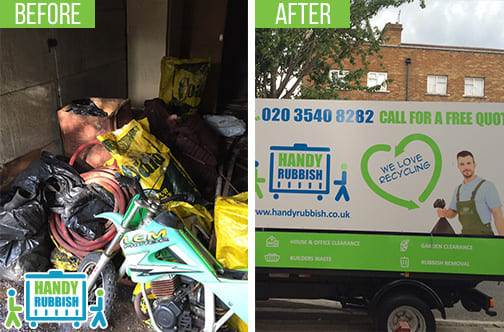 What we do
Where to find us
Like us
Book Cheap

Rubbish Removal Service in RM4

Our Havering-atte-Bower waste removal services are available throughout the week and the best thing about it is that they are available at a very short notice, which means that if you require our services the very same day, we are often able to provide them. Call us today on 020 3540 8282 to secure a non-obligatory quote to clear your junk, today with the help of the best RM4 waste collection company!
Havering-atte-bower Waste Clearance
Services at Your Doorstep
As a waste clearance RM4 company, Handy Rubbish knows that keeping on top of a clean house, not only on the inside, but the outside is a tough job! Things like old sofas and kitchen chairs just result in taking up so much space with not much use. Rubbish removal in Havering-atte-Bower is something we pride ourselves on, to be able to help you welcome in the new! Being able also to take care of other parts of your house such as having garage clearance means that, not only is your back yard clean, but the place where most junk is housed and stored.
List of services we provide

in Havering-atte-Bower, RM4
Household Rubbish Clearance

Havering-atte-Bower, RM4

Commercial Rubbish Disposal Havering-atte-Bower, RM4
Building Waste Removal Havering-atte-Bower, RM4
Garden Rubbish Removal Havering-atte-Bower, RM4
Electronic Waste Collection Havering-atte-Bower, RM4
Garage Clearance Havering-atte-Bower, RM4
Rubbish Clearance in RM4
Never Looked so Simple

!

Waste disposal in RM4 is something that is incredibly important to be able to attract high vibration things into our life without the old stuff being there to block good stuff coming towards you. As Havering-atte-Bower rubbish clearance professionals, our prime objective is to take all the hard and tedious work off your hands, so that you are able to relax and enjoy yourself without having to worry about how you are going to dispose of all these extra goods in your house. Being in the clearance business for many years, allows us to provide you with the best services at the best rates, making sure it is a win-win for both yourself and us. Call us today on 020 3540 8282 to discover what we can do to make life easier for you!
Testimonials
This Havering-atte-Bower junk collection service is fabulous. They were reasonably priced and the crew is great.
The most trustworthy junk removal company in Havering-atte-Bower RM4.
We were moving to our new flat and needed rubbish removal at our old, RM4 area address. Handy Rubbish sent someone right out, and they did a great job. I would use them again.
The garden waste removal job was dealt with very professionally, efficiently, and in a safe and friendly manner too. It was the complete service that I was looking for in Havering-atte-Bower RM4. I couldn't have asked for anything more.
Consistently do a good job clearing rubbish off my home in RM4, and the rubbish collectors are friendly.
There are huge gaps between this company and the one we were using in Havering-atte-Bower. They are more accommodating, helpful and reliable for junk removal. We contact them and within 12 hours. The job is done. They remained the best company we have used. We are recommending them for this kind of service.
You do not have anything to worry about when you hire Handy Rubbish for garden waste removal. They know the Havering-atte-Bower area very well and they cannot disappoint.
Booked with their team in Havering-atte-Bower. They were punctual and completed the waste collection job in RM4 in a jiffy. Cheap and dependable! Definitely worth hiring!
Havering-atte-Bower – Havering Palace
Havering-atte-Bower, based in the London Borough of Havering, located around 15 miles out of Charing Cross and on the Greater London border boundary of the M25. Being a village, it hosts places such as Bower House, Havering Palace, The Round House and Pyrgo Palace. The name stems from a name given to the place in 1066, which traditionally means Settlement of the followers of a man named Haffering. The name atte-Bower means a royal residence and refers to Havering Palace which is situated here. Situated on a high ground, it possesses excellent views into the heart of London. Transport is rather limited in this area, with the major public transport route to Romford Station and the other to Lakeside Shopping Centre. The village is surrounded by country side, with spectacular views of all the surrounding areas of Harold Hill and Collier Row. It is also surrounded by three large country parks which include Havering Country Park, Bedford Park and Pyrgo Park. Surrounding areas include Hornchurch, as well as Romford.
DO YOU NEED ADDITIONAL SERVICES?