Rubbish Removal

Bickley BR1

It's fair to say that keeping a tidy home is process that never seems to end. Think about it - for those with a full and hectic schedule, there isn't enough hours in the day to do a thorough clear out. Especially if you've got a large house. So we offer affordable rubbish clearance in Bickley BR1.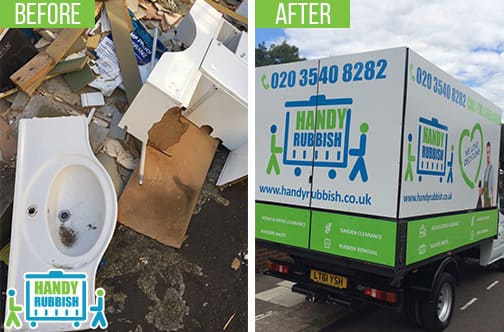 What we do
Where to find us
Like us
Book Cheap

Rubbish Removal Service in BR1

In some way, many of you have been in this situation. The clutter in your home has become so much of a problem that you need to take care of it. Whether the clutter is in the form of stored junk, accumulated possessions, and do on, something has to be done about it. What can you do about it, you ask? Well the easiest way to get things cleared up is by hiring a Bickley waste clearance company that you can trust.
Get High Quality

Bickley Waste Clearance Packages

The one that comes most recommended in the area is Handy Rubbish - by far. To be honest, we can do a whole lot. We have a variety of BR1 rubbish removal services for many different situations. Just call us on 020 3540 8282 to hire or learn more about each of them. This package involves dispatching a team of movers to your place of residence, to pick up any excess clutter. So be sure to separate the items you want to keep from the obvious junk. It's the most simple waste removal BR1 package we offer - so quick and easy.
List of services we provide

in Bickley, BR1
Household Rubbish Clearance Bickley, BR1
Commercial Rubbish Disposal Bickley, BR1
Building Waste Removal Bickley, BR1
Garden Rubbish Removal Bickley, BR1
Electronic Waste Collection Bickley, BR1
Garage Clearance Bickley, BR1
Clean Is in, Rubbish Is Out with

Bickley Waste Disposal Services

Our BR2 garage clearance staff specialise in the removal and disposal of building materials and heavy duty equipment. They're all taken care of in accordance with all of the health and safety guidelines too, so there's no need to worry. Waste disposal Bickley is a potentially messy job, especially for those with a large home. We provide dependable and convenient rubbish disposal in BR1 at affordable prices.
First Time Offered

Rubbish Clearance in Bickley, BR1

A fully featured office clear is another service package that we provide. Sensitive data removal, furniture clearance and electronic equipment disposal are all readily available. That's a lot of clearance services, but there is more where that came from. Just call us on 020 3540 8282 to find out more about our waste collection in Bickley!
Testimonials
Handy Rubbish in BR1 has a terrific rubbish removal team. They did a great job.
We contacted them for a junk removal quote for our home in Bickley. Satisfied, we booked them straight away. In the end, we realised we made a great choice and will use them again!
The nice thing about hiring Handy Rubbish for junk clearance is that they never disappoint. They always do a great job of clearing out our properties in BR1. They are incredibly affordable. That's why we continue to work with them. Thanks so much!
I called this rubbish removal service to help clear out my garden. My roommate recently moved out but left some stuff behind. These guys had the best rates in Bickley BR1 and did a great job.
So thankful to your rubbish disposal team in Bickley.
EXTREMELY friendly staff from Handy Rubbish today in Bickley BR1. They have just left my house clutter-free again.
My mum needed garden waste removal at her Bickley flat. This company offers affordable rubbish removal services and get the job done right. My mum is so happy with how lovely her garden now looks.
I remember calling them a day before my son's birthday enquiring for a quick junk clearance in Bickley. They showed up quickly and did an excellent job. Thanks for the great service Handy Rubbish.
I would come back again to Handy Rubbish for rubbish clearance because they did a great job for me in Bickley.
A few days ago the guys from Handy Rubbish came to Bickley BR1 to offer the junk clearance help and within a few minutes everything was gone. It was awesome.
No hidden fees, no tricks. They stayed with the quote, which is what I appreciated most. No haggling, no surprises. I recommend Handy Rubbish to those in Bickley who need items hauled away, best junk collection service!
I have never used a rubbish removal company before. I have always considered this an unnecessary expense. I had to dispose of a large amount of general waste in BR1 and I just couldn't do it on my own. I decided to hire their team based in Bickley and got a really efficient service at low cost.
Bickley - The Place to Go for Upmarket Housing
Bickley, in the Greater London borough of Bromley, is a district with a wealth of possibilities. It's got some of the finest and high value housing in Britain, which means if you can stretch to the costs involved, you'll be in for a good time. Bickley is part of both the BR1 and BR2 post code areas along with Sundridge and Bromley Common - two of the other high value places in London, so you'll be keeping good company here. Other than its high value housing, the main asset that Bickley has over other areas of London is the wide open spaces. Jubilee Country Park is a sixty two hectare space complete with fields of wild flowers and beautiful woodland. It is truly breathtaking to behold. Public transport is fairly prominent in Bickley. Bickley railway station provides services to London Victoria via Herne Hill, Kentish Town and more. Transport for London buses also serve the area, connecting Bickley with Beckenham Orpington among others. There's no finer district in London. As far as housing is concerned, Bickley truly is king of the hill!


DO YOU NEED ADDITIONAL SERVICES?