Rubbish Removal

Berrylands KT5

Hire our Berrylands rubbish clearance professionals - our phone lines are open now at 020 3540 8282, and our office staff are on hand to set you up with your ideal clearing service team. We can send our staff to your house, flat, bungalow, wherever, and they'll help you get rid of the stuff you don't need. Disused appliances, old clothes, and other general junk are ideal targets. We will help you clear some useful space by getting rid of items that you probably don't even remember owning.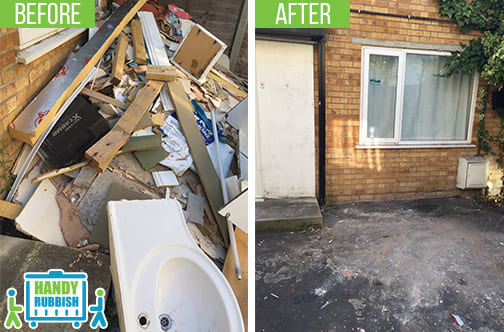 What we do
Where to find us
Like us
Book Cheap

Rubbish Clearance Service in Berrylands

Our KT5 waste removal of your garden is a different type of clearing service, but we can supply it regardless. If your garden doesn't look in the way you want, we can help fix it. Loose hedge and grass clippings are disposed of easily, as is litter, old gardening tools and so on. We'll make your garden a place to be proud of again.
Looking For Some Berrylands Waste Disposal?
Try Handy Rubbish!
The garage is where complex machinery and tools live, and this can be tough to clear. Our rubbish disposal KT5 specialists can take care of it though. They'll take extra care with potentially hazardous materials and tools, and make sure they're disposed of properly.
List of services we provide

in Berrylands, KT5
Household Rubbish Clearance Berrylands, KT5
Commercial Rubbish Disposal Berrylands, KT5
Building Waste Removal Berrylands, KT5
Garden Rubbish Removal Berrylands, KT5
Electronic Waste Collection Berrylands, KT5
Garage Clearance Berrylands, KT5
Rubbish Clearance in Berrylands -
Here's A Quick Run Down
The office often needs a little more care to clear, thanks to sensitive data and records. Naturally, this isn't a problem. If you are looking to re-invent your office space, or just give it a quick clean up, you only need to get in touch with us and we will provide you with the best KT5 waste collection Berrylands!
If You Need A Reliable KT5 Rubbish Disposal,
Just Give Us A Call!
The most beautiful part of our rubbish removal services in Berrylands, KT5 is that they are easy to hire. Our staff at 020 3540 8282 will run you through the process and book you an appointment in no time at all. So if you are looking for a convenient and dependable answer to your Berrylands waste disposal KT5 woes, just call Handy Rubbish today, and all will be sorted (and cleared) with ease.


Testimonials
I thought that the cost of rubbish disposal in Berrylands would be really high. But when I heard the quote of this company in KT5, I was more than happy to hire them! Great work!
- Reviewed by Martin
Looking for Somewhere to Live? Try Berrylands, It'll Do Wonders for Your Health!
It's a residential neighbourhood that is located close to the River Thames. It's part of the London borough of Kingston, and the post code area of KT5. It's a popular commuter route, so transport is convenient. Berrylands name originates from when it was an Anglo-Saxon settlement, and it means 'land on a hill'. Simple and to the point, wouldn't you agree? The residential population of Berrylands is well catered for by a variety of shopping centres. These are located in; Alexandria Drive, Berrylands Road and Children Drive. Each of them have a lot to offer, and are part of the reason why Berrylands is an easy place to live. Befitting its nature as a commuter route, Berrylands has a few public transport options. There's Berrylands railway station, and a bunch of Transport for London buses. Each of them has useful links, including to Central London. There is a great deal of housing opportunities in Berrylands, so becoming a part of this community is a very simple process!
DO YOU NEED ADDITIONAL SERVICES?