Rubbish Removal

Bournville B30

Handy Rubbish specialises in professional Bournville, B30 rubbish removal services for properties! Contact our teams and we'll come to your home to collect waste, unwanted goods and junk, saving you hours of hard work and effort. Our complete service means that you won't need to worry about disposal or waiting for the council to collect, and our rubbish removal teams are friendly, highly skilled and very experienced. All of our waste collection Bournville services are guaranteed to impress, and if you hire us you can avoid disappointment with a professional and award-winning rubbish clearance company! Find out more and book with us today by calling us on 0121 794 8242 – get a clutter-free property the easy way with the help of our experts!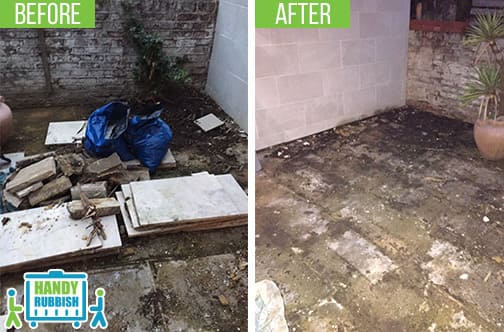 What we do
Where to find us
Like us
Book Cheap

Rubbish Removal Service in B30

We'll clear the waste from your home in no time at all, leaving you with an incredibly spacious property without any effort at all from your part! Our range of B30 waste disposal services includes everything from builders waste clearance to garden rubbish removal, so why hire anyone else? Our services also come with a whole host of exciting perks, such as fantastic attention to detail; same-day availability; evening and weekend services; 100% guaranteed work; friendly and experienced teams; special money-saving offers. Find the solution to your rubbish disposal B30, Bournville worries and problems with the skilled and friendly specialists from our team. Let us handle your waste so that you won't have to!
Need a Rubbish Removal in Bournville, B30?
Call Our Teams Today!
There are lots of ways in which we can help you save money on your rubbish clearance in Bournville! All of our services are priced to bring you the most value for money possible, with competitive and budget-friendly prices that you won't find anywhere else! You won't need to compromise on the quality of your service to get yourself a bargain. And with no hidden fees to worry about, and some of the cheapest prices in town, you can't go wrong with our waste clearance in B30! Get yourself a free price estimate and see how much you can save. Get yourself a bargain by booking your service – call us on 0121 794 8242 today!
List of services we provide

in Bournville, B30
Household Rubbish Clearance Bournville, B30
Commercial Rubbish Disposal Bournville, B30
Building Waste Removal Bournville, B30
Garden Rubbish Removal Bournville, B30
Electronic Waste Collection Bournville, B30
Garage Clearance Bournville, B30
Book the B30 Waste Collection Services
That You Need Today
Handy Rubbish is the only company that you need for professional assistance with waste removal in your home. There's almost no type of rubbish that we won't collect, and we employ greener methods of collection and disposal to ensure that your waste removal B30 needs aren't harming the planet. We recycle wherever possible, and we're just as committed to the environment as you are! If you live in Bournville and you want to say goodbye to rubbish in your home then all you need to do is pick up the phone and make a booking with us today. Call 0121 794 8242 now for all of your waste-related needs in B30!

Testimonials
I am pleased with their waste clearance service in Bournville! It was the cheapest offer in the whole of B30!
- Reviewed by B. Edmond
Life in Bournville

Bournville is found in south Birmingham and is covered by the B30 postcode. It is most famous for its history in the world of chocolate, and has strong links to the Cadbury family. The Bournville Village Trust takes care of most of the matters in the area, including the care of schools, hospitals, museums and libraries. Bournville is a conservation area and model village, and any plans for extensions or property redevelopment must be accepted by the Village Trust. Some of the area's most beautiful sights include the Rowheath Lake and the Bournville Rest House, which was created to celebrate the Silver Wedding anniversary of George and Elizabeth Cadbury. Thanks to the Bournville railway station travelling is fast and reliable.



DO YOU NEED ADDITIONAL SERVICES?