Rubbish Removal

Hamstead B42

Handy Rubbish operates a well established array of Hamstead, B42 rubbish removal services, each of them designed to make the removal of unsightly waste a more streamlined process. Our staff is highly trained and have experience with every type of waste removal job, so you can count on them to get things done.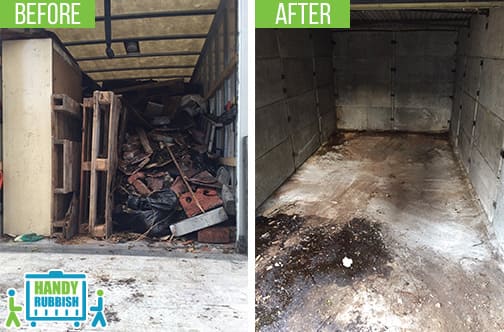 What we do
Where to find us
Like us
Book Cheap

Rubbish Clearance Service in Hamstead

If you have got some cupboards that need clearing out, or a loft that you want to repurpose, hire us for some expert Hamstead waste removal services! We operate in the whole B43 area, and our contact number is 0121 794 8242. Get a free quote today!
We Have a Variety

of Convenient Hamstead Waste Disposal Services on Offer

If you've been looking for a general decluttering service, or one that deals with a specific area, chances are we've got what you need. Houses, flats, offices and warehouses can all take advantage of our general rubbish clearance B42 services. Just get in touch and we'll do the rest. If you need the bins emptying, we also offer convenient junk collection services on a domestic and commercial basis. We can also shift the debris left behind after a builders' visit, so you can get back to business as soon as possible. Furniture clearance is nothing that our capable staff can't handle – even the bulkiest of sofas can be moved and disposed of in no time! All of these waste disposal Hamstead services are available just by calling our B42 offices on 0121 794 8242. It only takes a few minutes to arrange a convenient appointment!
List of services we provide

in Hamstead, B42
Household Rubbish Clearance Hamstead, B42
Commercial Rubbish Disposal Hamstead, B42
Building Waste Removal Hamstead, B42
Garden Rubbish Removal Hamstead, B42
Electronic Waste Collection Hamstead, B42
Garage Clearance Hamstead, B42
If You've Got Some Rubbish To Get Rid Of,

Hire Our Waste Clearance Services In Hamstead, B42 Today!

We provide a service that many people need – a great value rubbish disposal Hamstead, B43. It might seem like a frivolous luxury, but keeping the area and by extension the environment clean is a VERY big deal to us. Our waste disposal methods reflect this. We avoid landfills and instead focus on recycling and other sustainable disposal methods. All plastics, cardboards and paper based waste that comes our way gets reused. As a waste clearance provider with many years of experience in the industry, we are very proud of the way we continue to do business.
If You Are Looking for an Affordable B42 Waste Removal,
Look No Further!
Professional B42 waste clearance assistance is a job that a lot of people would rather avoid, and with good reason. It's a lot of hard work, especially if you've got multiple rooms to clear. Here at Handy Rubbish we take the burden of property clearance off your shoulders, and instead put it in the hands of our professional staff. These people have the skills and dedication to get the job done, and can be dispatched to your Hamstead, B42 property today. You can call us today on 0121 794 8242 to arrange an appointment or to get a free estimate with no obligations on all of our Hamstead waste collection B42 services.


Testimonials
Loved the way they handled my job in B42! This was the cheapest and swiftest waste collection in Hamstead I have ever experienced in my life!
- Reviewed by A. Driscoll
This is What Hamstead is Like!
Hamstead is an area on the border between Birmingham and Sandwell, and is adjacent to the Sandwell Valley area of West Bromwich. Historically it's a mining town with Hamstead Colliery providing mid twentieth century miners with comfortable housing. Hamstead Colliery is now known as Hamstead Village, and is still every bit as comfortable. The River Tame runs through the village, as does the Tame Valley Canal which used to serve as a transportation method for the coal miners. Hamstead railway station provides services on the Birmingham-Walsall Line, and offers residents a convenient link to Walsall.


DO YOU NEED ADDITIONAL SERVICES?