Rubbish Removal

Brindleyplace B1

Handy Rubbish are here to help you and with all rubbish disposal in Brindleyplace, B1. So whether you require a team of professionals to remove large amounts of household rubbish, or you need a waste removal B1 service for your workplace, if you're situated in the area, we're the team to call. Booking a service with us is straightforward. Contact us on 0121 794 8242, arrange a time for us to come around, then we'll arrive on site promptly and get right to work, clearing away everything in one quick, efficient and professional service. We collect all types of junk, so entrust us to get the job sorted.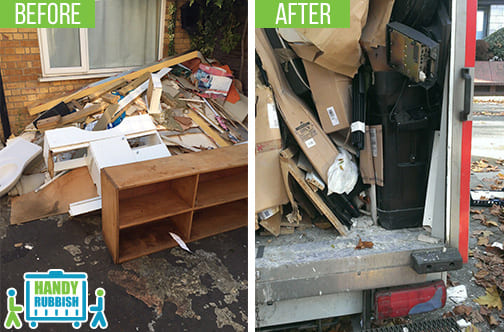 What we do
Where to find us
Like us
Book Cheap

Rubbish Removal Service in B1

When it comes to rubbish removal in Brindleyplace , there's a right way and there's a wrong way of doing things, at least that's what we think. We consider the right way – and we're sure that many of you do too – to be carrying out a B1 waste collection task and not just dumping everything straight into landfill. This might be easier and may save time, but it's certainly not the method that companies should use. We believe it's our - and everyone else's - responsibility to look after our planet, which includes your local area of Brindleyplace, so we do everything we can to ensure the majority of your items are recycled and your waste is put to better use.
Brindleyplace Rubbish Removal Services
You Can Rely On
A first class waste clearance in B1, Brindleyplace that can take care of all of your requirements. A team of dedicated rubbish collection experts on your job. We know what we're doing, so there'll be no faffing when you hire one of our service. Simply arrange everything with our team over the phone, book a time slot, then sit back, relax and leave the rest to us. A cost-effective waste disposal in B1; It'll be well worth booking with us if you have a pile of waste you can't get rid of by yourself, and because of our prices, you won't feel guilty about doing so either. Call 0121 794 8242 and get a free quote during a friendly consultation.
List of services we provide

in Brindleyplace, B1
Household Rubbish Clearance Brindleyplace, B1
Commercial Rubbish Disposal Brindleyplace, B1
Building Waste Removal Brindleyplace, B1
Garden Rubbish Removal Brindleyplace, B1
Electronic Waste Collection Brindleyplace, B1
Garage Clearance Brindleyplace, B1
Efficient, Professional Waste Removal

B1 Services at Competitive Prices

A cheap rubbish removal service that takes care of all your requirements is just a phone call away. Contact our team on 0121 794 8242, detail your junk disposal requirements to our team during a free consultation, and we'll provide you with a free estimate and determine the final price. We'll then let you make a decision as to whether or not you want to book with us; there'll be no pressuring, no-obligation required. But having said that, when you hear our prices we're sure you'll want to make a booking right away. Trust Handy Rubbish to take care of your Brindleyplace rubbish clearance needs and you certainly won't be disappointed!

Testimonials
Got a great deal on waste clearance in Brindleyplace B1 and took advantage of it. The service was excellent and I am very happy with it all. Great work at a low price!
- Reviewed by Genevieve K.
The Canalside Development of Brindleyplace

Brindleyplace is situated in a beautiful location; it's a city centre canalside development consisting of many restaurants, bars and various other shops – it's the place to go if you want to see Birmingham in all its glory. The area used to be made up of factories and industrial developments. But today there are many fine buildings, such as The Ikon Gallery and The Crescent Theatre which sit along the waterways. The National Sea Life Centre is a popular attraction in the local area, and the National Indoor Arena is also in the vicinity, around which there are the bustling bars on Broad Street.


DO YOU NEED ADDITIONAL SERVICES?